The NYT says "false." Good.
When writing the previous item yesterday afternoon, about the pernicious works and thoughts of Elizabeth McCaughey, I had no idea that the NYT was planning to go into the same terrain with a very good story today: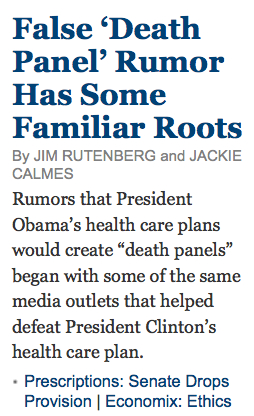 But I mention the story mainly because of the way it is presented as a lead item on the TImes's web site, as shown at left. Using the word "False" is a big - and important -- step for an organization like the Times to make. I can't recall a time when the NYT used that word in a headline to describe the "birther" worldview.

 In general, even on the most extreme, out-of-the-realm-of-fact political claims, every powerful instinct in the news media shies from calling something "false" in favor of adjectives like "controversial" or "disputed," or sometimes "partisan." As many people have noted, and as I discussed even back at the dawn of time in
Breaking the News
, the "objective" instincts of the news media can tie it in knots when one side to a political argument is perfectly willing to say obviously false things. It's hard for mainstream publications to say outright that something is false or a lie. So it is impressive to see that the NYT has taken that step.
Online at least. The front page of the print paper plays the story big, but under this headline: "Getting to the Source of the 'Death Panel' Rumor." Much to discuss later on about how the two versions of the paper came to their different decisions; about whether in the long-run there will be "web-appropriate" and "print-appropriate" versions of objectivity; and whether this labeling even by the NYT will have any effect on political discussion. It may be that we're so far into the era of separate fact-universes that having the NYT call something false makes others believe all the more that it is true. Nonetheless, it's a headline worth noticing.