As I've mentioned many times (start here and follow links), SugarSync has become one of those tools I rely on 24/7. Over the past year, I've used it as a kind of personal-scale "cloud" letting the three Macs and two PC/laptops in our household share and sync the same files. I work on a Word or Excel file* on a desktop machine in my office. When I'm done, I save the file on that machine. Then I use any of my other machines, anyplace else, and I can open up the current version of that same file, without ever manually transferring anything. (The computers do need a network connection to sync up, but they don't have to be connected at the same time.)
For the last few months, this has worked with the BlackBerry too. I revise an article in the evening. The next morning, on the street, I can look at the current version of it on the BlackBerry. I've never actually done that, but in theory I could. And I have actually come to take for granted that all my machines will always have the latest version of the work I've done on any of them. Many times I have edited my own files from someone else's computer or a public computer at a net cafe, connecting to my own little cloud. There are other services that can do some comparable things, but this is the easiest one I'm aware of.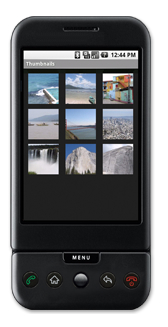 Late last month, SugarSync announced that the system would work on Android devices. (Android = Google's free operating system for phones and other mobile devices.)  For example, if you had photos on your office computer and wanted to show them to someone when you were traveling, you could see them via the phone, in either small or large versions. That's what the photo to the left, from the SugarSync site, shows. Or you could check the actual content of many kinds of files from your phone.
I mention this news for three reasons. First, on karmic principles. Products that work deserve not just to be taken for granted but also to be recognized.  Second, the Android market is itself potentially interesting. As "netbooks" -- cheap, simple computers designed to work in the cloud rather than storing much data themselves -- become more popular, the significance of free operating systems will grow. If a "normal" computer costs around $1000, another $50 or so for the operating system (ie, Windows) is not that big a deal -- a 5% add-on. For a $300 netbook, it's a much bigger hit. So whether netbooks really catch on, and what OS the manufacturers put on them, will matter a lot to Microsoft and everyone else.
 
Third, the all-fronts onrush of the "cloud computing" age, illustrated by the very existence of products like SugarSync and Android, highlights the one big exception to that movement. This is also the one big reason why I, at least, still have to spend time thinking about what parts of my data are on what machines.
That exception is Microsoft Outlook, and the enormous .PST files it generates. PST files amass all email, appointments, contents, and tasks you are dealing with in Outlook. The correspondence I have in my Gmail accounts and the appointments in Google Calendar exist separately from whatever machine I am using. The same is now true of .DOC and .PDF files -- and in fact everything, except for PSTs, which are hard to keep anyplace except on your own machine. Their scale is one factor: very quickly they reach into the tens or hundreds of MB size. More important is that every time you use Outlook, all of the .PST files you have open are all marked as being "changed," even if you have altered a single byte. It is as if every time you loaded Word, every .DOC file was marked as being changed and had to be newly backed up.
The combination of huge file size, and constantly re-written status, means that virtually no "cloud" system can really handle .PSTs. It would be stuck in an endless loop of re-backing up and syncing them. So what I do is keep track of which .PSTs I have actually changed in any given session (usually the active one, and a main archive file), and copy only those from machine when I have to travel.  Yes, I know very well that there are utilities that would let me convert all my archived .PSTs from the past dozen years into Gmail or something else that could live in the cloud. Some day I will do that and leave Outlook altogether, now that Gmail has a works-most-of-the-time Offline feature. But on any given day, it hasn't seemed worth the bother.
Why do I mention this? I don't think it's an intended part of Outlook's design, which was conceived long before the cloud era. But whatever the intention, at the moment it's a powerful lock-in / sea-anchor factor resisting the movement to operations purely in the cloud.
___
 
* or one from Personal Brain, or Scrivener, or Zoot, or DevonThink, or any of the other programs I actually use 24/7 to do my work. For another time: more about how they work separately and together.