Notes on repatriation (recession, media depts)
It would be too overwhelming to try to list all the things my wife and I miss about three years' immersion in China, and all the things we enjoy about returning to the house where we've lived, off and on, since the early Reagan era. Items in the first category boil down to the daily sense of amazement at some improbability we'd seen on the street in Beijing or Urumqi or Lanzhou. Our standard evening conversation was, "You won't believe it, but..." Items in the second category have a lot to do with the physical comforts of daily life in a rich rather than a poor country. Yes, I mean starting with the air.
But here are three things we can't help but notice.
1) The service sector. I think the US consumer economy would still be in free-fall if we hadn't come back. We show up from China needing new of everything. Clothes. Camera. Two computers, plus monitors and backup drives. Housewares. Shoes. At least one fridge, probably a stove. Radios/sound system. TVs. You name the item, and the version we have is road-worn, obsolete, broken, or gone. (Sadly for Detroit, not cars: Our two, vintage 1999 and 2000 respectively and stored with friends, still seem just fine. Sorry!) Our house needs to be repainted-- and re-roofed, and re-drivewayed, and its trees trimmed. That's just a start. Good thing we saved up in those days of 20RMB noodle/dumpling dinners. And, yes, many of the items we're getting were made in China. You just can't buy them there.
Here's the surprise: We call to get service appointments, and people show up right away. Air conditioning not working in 90-degree DC swelter? We make a call one evening, and the next day it's all fixed. Plumbing clogged and leaky? A few hours later, it's not. Need the car looked at, after three years in the shed? Call the service place and the only question is: do I want to bring it in this afternoon? Or wait till tomorrow? On a Sunday, we see that a tree is dying in the back yard. By Monday afternoon, it is converted into neatly stacked wood.
These are all people and services we'd dealt with before, but in those days we learned to plan weeks in advance for service calls. America still looks incredibly rich and lush. But this little indicator suggests lots of slack in anything considered a discretionary purchase. Not startling in principle, but impressive to encounter first-hand.
Only exception: I call to get an appointment for a physical exam with our doctor -- a good but "normal" doctor, not some fancy physician to the stars. First available slot, mid-November. I have no theory for this anomaly.
2) The dispensability of TV. The first night we were in our house, three weeks ago, no internet! By the next afternoon, we'd solved that emergency. Phew. (That day I was driving around the neighborhood with a laptop, looking for no-password wifi signals from some neighbor's house.) But that first day, also no TV. Cable, satellite, and TiVo services had all timed out. Of course no broadcast signal, after the digital switch-over. Each day since then, we've looked at the list of next-most-urgent chores for getting re-settled. And each day, getting the TV going -- figuring out the right service, making the appointment calls -- has not quite made the cut for that day's to-do list.
 
A few times I've thought, It would be nice to turn on the TV. Like, during Obama's evening press conference last month. And I am sure we'll eventually get it going again, before football season and all. Probably the US Open tennis matches will be the trigger. But after many decades of living in a swirl of TV signals, I am surprised by how livable life is without it. For now.
3) Media. We're getting real paper newspapers and magazines again. NYT and Washington Post, and soon again the WSJ. And all our complement of magazines. Leafing through the papers is a nice ritual in the morning -- even when I've read a lot of the stories the night before online. Don't worry: I'm not even going to start down the road of comparing online/print economics or ergonomics, even though I'm impressed at how differently I read the news on a page versus on a screen.
Instead what I notice is the change within the papers I'd read before. The NYT, for all its travails, is a recognizable version of the publication I'd previously known. Personality, depth, world-view, tone. The poor Washington Post is not. Laying off -- that is, buying out -- so many reporters who knew so much about their topics has had a more profound effect than I would have guessed. (Locus classicus: Tom Ricks on defense.) And the resulting paper seems more obviously desperate to try anything that will draw attention in this new age.
To me, that was the real meaning of the unfortunate recent "Mouthpiece Theater" commotion that has accompanied my re-introduction to the Post. (And for which Chris Cillizza wrote a gracious apology.) Not the flap over the final "bitch" episode but the existence of the thing at all. Experimentation is great and necessary in journalism, always and especially now; mistakes are a natural price of that; and everyone in every field needs to make his or her work as entertaining and attractive as it can be. But trying to compete for attention on sheer yuks is a step toward the brink. "Real" entertainment will always be more entertaining -- that's how it got the name. Anyone hungry for more on this theme is invited to check out the whole chapter on the death-spiral of infotainment in Breaking the News. And I think it's why the parody-reply to "Mouthpiece" on YouTube, below, was so genuinely funny and stinging. It wasn't mocking the segment so much as the paper's overall predicament.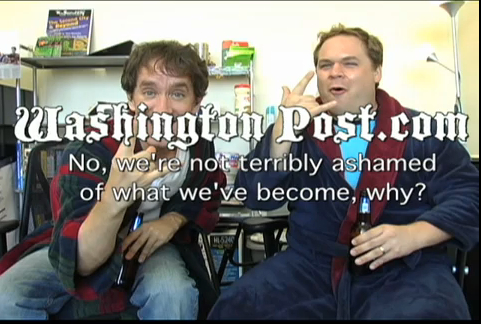 I've thought of the Post as my hometown paper for years and feel as if I've come back to see a family member looking suddenly very ill. I still have good friends doing good work there. Also, good work by people I don't even know! As with two Style-section pieces this morning, on Thomas Pynchon by Michael Dirda and on the Obama/Joker/Socialism posters, by Philip Kennicott. But if someone asked, what do you notice that's changed, the Post would be high on the list.