More love for the TSA (plus actual good TSA-related news)
Four ways of looking at the TSA (drawn from reader mail, following this and this item):

As possibility for political symbolism:

"Political experts will disagree, but the smartest thing that Gingrich and Co did back when they took over Congress was kill the federal speed limits. It told every American that they were serious about killing outdated government regulations and it gave some moral power to their deconstruction.

"In another era, Miranda rights, repeated endlessly on TV cop shows, gave every American the idea they had "rights".

"I remember an axiom, perhaps from Nixon, that every President needs to kill a government department on taking office.   Killing TSA, and saving $5 for every airline ticket sold, would seem to be an enormously easy venture. Going back to your 1977 article, What Would Jimmy Carter Do?" [Deferring comment on this last point for now.]

As occasion for good news!
A reader sent this positive account from a recent trip via BWI airport in Baltimore:

"The last time we traveled through BWI in July, we noticed that TSA seemed a lot friendlier.  Someone near the area where you got screened was announcing a list of things that you had to take out of your bags to be screened separately. This list included some things that I considered fairly bizarre like an accordian. This made the TSA look a lot less humorless than they had been before. 

"I do  agree with you that the shoe thing needs to stop.  There are some people trying to sneak through with their Vibrams or similar shoes.  These are still rare enough that they puzzle some TSA personnel."

As it turns out, there is a reason why BWI seems less maddening/harassing than most other airports! A friend who works for IDEO, the famed design firm, pointed me toward a report showing what IDEO had done to reduce the going-crazy experience of passing through airport check lines. It's here, and it includes apercus like this:

"It was clear that trying to observe the subtleties of hostile intent would be less effective in a chaotic environment filled with stressed passengers. IDEO was engaged to design a solution that calmed the environment of the checkpoint, thus making potential threats stand out."

Good work! (Pictures from BWI below.)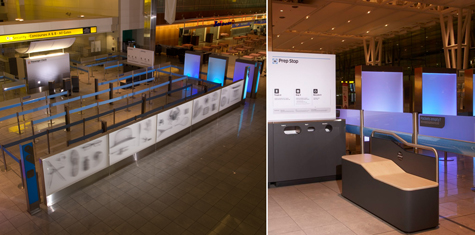 As reason to hold your head and moan:

"What I like to call the secret security line at MSP [Minneapolis-St Paul] (it's near the rental car return and transit station, and never has a line; depending on my gate I've taken a tram there just to avoid the line) is also used by many airport workers who take a shuttle bus or train and have to clear security. I was behind one of them in line the other day and he walked right through, without taking off his shoes. I, of course, was admonished to run my running shoes through the x-ray.

"The question, of course, is what would keep him from either having a plane ticket or (gasp!) exchanging his shoes with some terrorist already in the airport? You know, since, as your colleague proved, you can get pretty much anything through security ... On forged boarding passes at MSP."

As yet another occasion for moaning:

"My job as a flight operations employee since 1970 required that I work at airports in the US and Europe.  I took a leave of absence for seven years to travel extensively and write a book.  Recently there was a position open for my experience and skill level in flight operations and the head honcho told me he'd hire me immediately.  I'm sure you can guess the rest.  TSA requires documented proof of employment for the past ten years.  This would never have been an obstacle twenty years ago.  You got hired for your knowledge, experience, skills, capabilities, etc etc.  Now a bunch of govt bureaucrats are getting in the way of employment when there is no valid reason to do so. "

I am content with my work in the Private Sector. Yet if I were someday to be appointed head of TSA....