More Burma nuke background
In
this item
, yesterday, from Jeffrey Lewis's
Arms Control Wonk
website. It discusses the implications of the feature shown below on the Burmese landscape, taken (I assume by Lewis) from a Google Earth shot.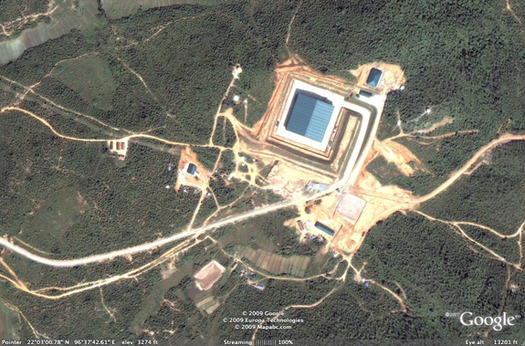 And, as several readers have written in to suggest, thought experiment: Might this development have something to do with Bill Clinton's sudden trip to North Korea?

On a related topic, the implications of ever more-complete and higher-rez coverage form Google Earth, as in pic above, are only beginning to sink in. A friend mentioned yesterday that extremely fine-grained coverage of a number of places had just gone up in GE, including of my recent hometown of Beijing. I can now see the individual windows of the apartment building from which I used to take "Beijing air quality photos." Will put that up at some point.