Twice recently I've done brief interviews on NPR's On The Media show. Both times have concerned the pernicious influence of one Elizabeth "Betsy" McCaughey, below.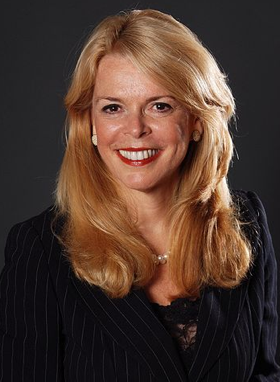 In the early 1990s McCaughey single-handedly did a phenomenal amount to distort discussion of health-care policy and derail the Clinton health bill. She did so through an entirely fictitious argument about what the bill would do. You can go back in the records here, here, and here, but the issue boils down to this: She claimed that the bill would make it illegal to go outside the government plan for coverage or pay doctors on your own. If a doctor took money for such outside-the-system services, she said, the doctor could go to jail. That was a flat-out lie. (One of the very first clauses of the legislation said, "Nothing in this Act shall be construed as prohibiting the following: (1) An individual from purchasing any health care services.") But her imaginary "no exit" claim was repeated so often by so many "respectable" media sources that it effectively became "true" and played a large part in stopping the bill. It would be as if the "birthers" had persuaded John Roberts to say, "Wait a minute, let's take another look at that birth certificate" and decline to swear in Obama on inauguration day.
McCaughey has been at it again this year—twice, in fact. First was with an early, equally false claim that to compile  "comparative effectiveness" data about medical care—which drugs had which effects, which surgical procedures led to which results, the sort of data collected routinely about education, air safety, and everything else—would lead to a Big Brotherish intrusion on individual medical decisions. That one seemed to get knocked out of contention fairly early. Then she was back with the "death panels" argument. And here is where I made my mistake.
In the On the Media interviews, I said that the "media ecosystem" was a lot different now from what it had been 15 years ago. Back then, there was no blog world. The news cycle moved in days-long or weeks-long intervals, as newspapers came out each morning and newsmagazines each week. It was very hard to have instant feedback or correction in real time, so false stories could solidify before the truth squad had a chance. The early McCaughey was brilliantly matched to this system. Her unvarying pose is that of the objective researcher who has, selflessly, pored through the pages of a bill and emerged to warn us about what she has found. People took it at face value the first time.
But these days, I said, that wouldn't work as well. She personally now had a track record. (Republican politician with a turbulent history; proven distorter of the facts.) And thousands of other people could now look through a bill too and post their findings mere minutes or hours after her claim. Thanks to blogs, Wikis, and the rest, there was a more nimble check-and-balance built into the discussion of ideas these days. And indeed it seemed to work that way early this year, with her failed "comparative effectiveness" foray. She made a claim; "crowdsourcing" proved her wrong; she piped down. And so, I confidently said to Bob Garfield of OTM, we'd seen a good side of today's Web-based decentralized journalism. There were plenty of bad sides, but the new potential to stop charlatans was a plus.
But then came her claim about the "death panels." About the plain old facts here, there is as little room for rational dispute as with her previous phony contentions. The bill would not call people before panels to determine whether they had a right to live. Details from the conservative Republican Southerner who sponsored the plan, here.
Beyond the facts, anyone who has had first-hand experience with modern end-of-life issues knows this is not something to demagogue. The combination of what is eternal, namely man's mortality, and what is new, namely the frontiers of high-tech medicine, converts what has always been a painful, fraught, and central aspect of human existence into something with even more painful dilemmas and choices than in previous days. Seriously: I do not think that any decent person who has seen this process, up close, can imagine preaching to anyone else about the choices and consequences. It's just too complicated and painful. And certainly any fair reading of the legislation indicated that it was designed to give individuals and their families more rather than less control over what are inevitably impossible choices about our loved ones and ourselves—to reduce the chances that anyone else could preach or dictate to them.
But the flow of argument makes it appear that "death panel" has won the battle of political ideas, as "no exit" did 15 years ago (and as the "birthers" have not done). For example, Charles Grassley seems to have bought it. I don't know which interpretation is more depressing: that Grassley actually believes in death panels (ie, he's irrational), or that he knows better but figures it's smart to say he believes (ie, he's craven). The political fundamentals, as I understand them, still favor the passage of some health-care bill. To that extent, Ms. McCaughey may indeed have been blunted. But I said two weeks ago that I thought today's communications systems had caught up with people who invented facts. I was wrong.
In my, umm, mature years, I don't generally see a point in going after people personally. I have enough adversaries already. But there are necessary exceptions. And the ability to have a civil discussion about central policy issues, in terms that are connected to the world of facts and realities, matters for reasons that go beyond any one person's involvement.