Decoding the Supply Chain
China, "factory to the world," sends fleets of container ships to our shores, as do many other nations. But who precisely makes the stuff contained in these boats? Where do they make it and under what conditions and circumstances?  The answer to these vexing questions may soon come in the form of a tiny barcode sticker called GS1 DataBars. Here's the technical description:
GS1 DataBar (formerly Reduced Space Symbology or RSS) symbols can identify small items and carry more information than the current EAN/UPC bar code. GS1 DataBar enables Global Trade Item Number® (GTIN®) identification for hard-to-mark products, such as apples, pears or other types of loose produce. It also can carry GS1 Application Identifiers, such as serial numbers, lot numbers, and expiration dates, which creates the opportunity for solutions supporting product authentication and traceability, product quality and effectiveness, variable measure product identification, and couponing.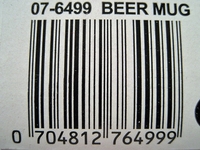 Yes, that's right, these babies are small enough to stick on individual pieces of fruit, making tracing stuff back to its source a relatively simple matter.  That means we could trace any number of goods--from bras to hammers to Tommy Toy Train sets-- to the individual factory where they were made--simply by plugging barcode data into the company's website. 
Those in doubt might note that Wal-Mart has already taken up the practice--at least in a line of Love Earth jewelry, the lineage of which can be traced back from Sam's Club showcase to a specific gold mine.  Icebreaker, a company specializing in woolen garments, labels sweaters with a "baacode" they claim allows you to trace the wool back to an individual sheep.
Were retailers required--or even requested--to code all their wares, I wonder if the supply chain leading to sweat shops might find a new direction...