Astroturf on Coal's Grave?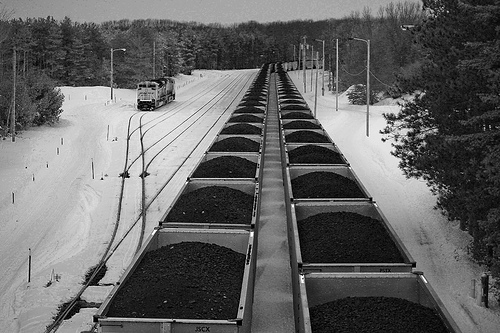 I know I'm supposed to be outraged that lobbying firm Bonner and Associates, acting on behalf of the (ironic tongue twister alert!) American Coalition for Clean Coal Electricity, has filed 13 forged letters on behalf of senior centers and the elderly with a House Committee against the Waxman Markey climate bill. And I'm also supposed to be furious that the American Petroleum Institute is trying to whip up an astroturf teabagger death panel anti Waxman Markey extravaganza by creating the illusion of "Energy Citizens" against the bill at town halls. But it makes me laugh. Who wants to be an "Energy Citizen?" Never mind call on Congress to "get it right?"  Who's going to carry a loaded AR15 to such wishy washiness? Certainly not someone with a nice job in at an oil services company.
This smells of desperation. When they're not being ignored, coal, utilities, and oil companies are despised. There's a good chance that the climate bill will not pass, but it will not be because of spontaneously created "energy citizens" but because of old fashioned energy politicians.
And then the battle will continue, because not only does the energy industry have to forge letters from senior centers to fake a grassroots, they have a lot to fear from real grassroots.
The anti coal movement is growing weedily. In the last two months alone there have been 6 fairly major anti coal demonstrations in the US, according to Sourcewatch and Coalswarm. Activists have scurried up  a 20 story strip mining tool, climbed Mt. Rushmore, and locked down West Virginia's Department of Environmental Protection. 700 people protested carbon sequestration in Greenville Ohio. They were not protesting anything tangible like mountaintop removal (which got Darryl Hannah to West Virginia) , but instead a proposal to  inject carbonated soda water more than 3000 feet below ground. (Note: I think well-run carbon sequestration is a decent idea, and the oil industry has done it for years to force more oil out of their wells.)
Looking at these protests reminds me of the days of anti-nuclear protests in the 70's and 80's that piled on top of financial and liability problems to stifle the industry. The forces are gathering and coal is about to go nuclear in the worst way. Take a look at the many groups allied against coal in the US, consider the deal that stopped the building of the TXU power plants in Texas, the 97 coal fired power plants canceled since 2001  (in part because they're expensive), and it's clear that coal is slowly but surely becoming politically radioactive. (And also literally.)
Now I'm not a big fan of coal, but I do like the occasional electric light,  and I don't believe that killing coal in the US alone will cool the planet. In order to do that we'll need to figure out how the world can burn it more cleanly, or cheaply replace its power with other lower carbon energy. And the world needs US leadership to get there. The coal industry could try to jump on that bandwagon and innovate their way ahead. But instead, they're stuck in a rut and forced to forge letters of support.
(Photo: Flickr User wsilver)