About that "ominous" building in Burma
Two weeks ago, I posted this photo, with accompanying expert commentary about the possibility that the malign regime in Burma was using North Korean aid to build a nuclear facility: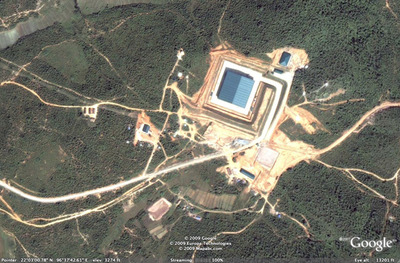 Subsequent commentary knocks down that speculation and comes to the (reassuring!) conclusion that it is very likely just a big industrial plant. Eg, Mark Hibbs of Nuclear Fuel, quoted on Arms Control Wonk, says this:

According to some information that sources said has been made available to Western governments and the IAEA, the "box" in the photos is likely not a reactor but a nonnuclear industrial workshop or machinery center.

That determination, the sources said, follows from the absence of certain "overhead signatures" for a reactor in the photos and from specific information derived from firsthand knowledge of the site and its activities, deemed to be highly reliable.

'We can conclude that it's not a reactor with near certainty," the Western analyst said.
And from Arms Control Verification.org, via The Interpreter in Sydney, extra photos and commentary supporting the same "less than meetings the eye" conclusion. Eg:

We learned from two sources, independent from each other, that the box-like building has been under scrutiny by the IAEA's [International Atomic Energy Agency] Department of Safeguards for quite some time, and that the department is nearly certain that the building does not serve any nuclear programme. An official, associated with a Western intelligence agency, later told us that, "we've been looking at that site for years, since construction started. You cannot hide a reactor in a low building without a basement level". A relatively recent visit to the facility has reportedly confirmed with '99 per cent confidence' that it is a machine shop..

We'll take our reassuring news where we can find it.