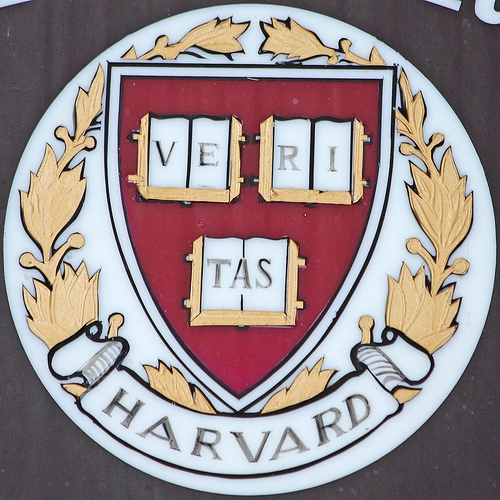 The Boston Globe reports that Harvard's attorneys are -- defensively, they say -- trademarking everything from the letter H (watch out, Sesame Street!) to "The World's Thinking" (watch out, world!):
Most trademark directors at other Ivy League Schools were astounded to hear of the lengths to which Harvard goes.


Yale has only half a dozen trademarks, including the university name and its bulldog mascot leaning on the letter "Y.'' Princeton, too, has only a handful, most of them designs or Latin phrases. Columbia, which has a harder time casting a wide net on trademarks because of the Columbia Sportswear clothing company, sticks to its name, symbolic crowns, and lion mascot.
In fairness to Harvard, its name has probably been misused earlier and more notoriously than that of any other American school. While researching another topic I found a century-old magazine exposé of fraudulent dental clinics that included one called Harvard Dental Companies. And a bit later Al Capone's first boss, the gangster Frankie Yale, called his Coney Island bar The Harvard Inn. (Pity he passed up The Skull and Bones.)
As a Harvard alumnus, albeit non-degreed, I respectfully submit a few further trademark candidates:
"Park your car."

"Fight fiercely."

"You can't tell him much."

And my favorite:
"You leave thinking like a lawyer."

(Thanks to Howard Segal for the link!)
(Photo credit: http://www.flickr.com/photos/lwr/3632216400/)