Well, I have a new favorite newspaper
Move over, China Daily. I don't know how long The Onion can keep up its running version of
how it will look
after acquisition by the Yu Wan Mei fish salvage company (鱼完美,
yu wan mei
, "perfect fish"). Background on the sale
here
.

But as long as it lasts, it is a tour de force. I suspect that some veteran of the China Daily or allied Chinese "information" organs in English must have defected to the Onion and guided this exercise. It's as good an imitation of the original as are the standard Onion "area man" versions of American news.

Improved version: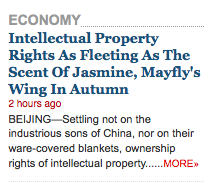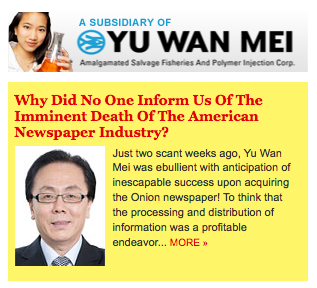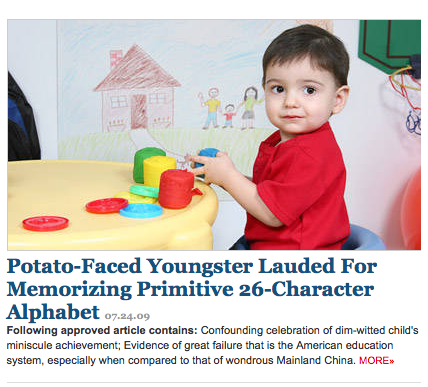 My general policy is: if something is already On The Internet, no need for me to mention it too, unless it is in some cranny where many people might overlook  it. But the artistry here forces an exception to the policy. After the jump, an early indication of the Onion's prowess in the "learning from China" field.
UPDATE
: It is worth going to the
Opinion page
, as illustrated below, and clicking on the "Internet allows free exchange" story.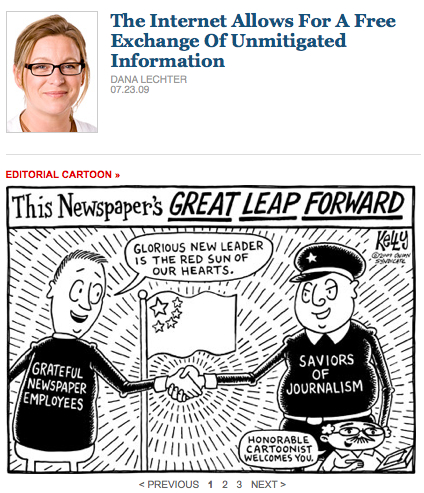 _____
The famed "100 Widow Smog Dance," from the Onion's celebration of China's emergence as the #1 polluter in the world. For the "correct" view on China's efforts to deal with pollution, see the real facts
here
. Still, the video is very funny.