Weekend Gehry / public spaces update
(Following this and this and earlier items mentioned in links.) I've received a fair amount of ad-hominem comment about all participants in this discussion -- Frank Gehry, Fred Kent, moi-meme! I'll do my best to leave that out and convey the points of substance. Granted, it's tricky to separate comments about Gehry's work, admiring and critical, from comments on his persona, since he is the world-renowned star architect whose impact is part of what's being discussed. Herewith, three recent views:
From a reader in the Washington DC area, who included photos with her message. (Reminder of reader-mail policy: I will assume that I can use anything that comes in, and I will assume that I should not use your real name unless you explicitly say otherwise.)

"Everybody has an opinion, including me. (A trained landscape architect who practices antitrust law to pay the bills, which makes me nothing more than an educated amateur.) I personally like Gehry's Bilbao building. And some others. But I was appalled in 2005 when the Corcoran Galley + School of Art planned to put a Gehry piece behind its Beaux Arts building on the corner of 17th and New York Avenue. What a beautiful model.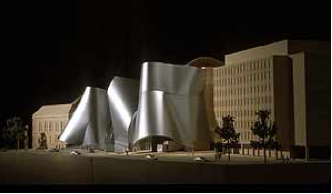 "It would be a wonderful building on a 1 or 2 acre lot, but not crowded onto this tight urban spot. (Compare, for example, I.M. Pei's National Gallery East Building, which is not squeezed into its space.) [pic below, from the reader, is of the Corcoran's site.]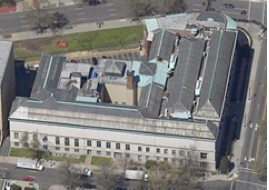 "Personally, I was relieved when the Corcoran decided they couldn't afford the thing. Of course, all the architectural journalists grieved, but I think the neighborhood is better off. (I love Frank Lloyd Wright, especially the Guggenheim, but lots of people thought it was out of place and shoe-horned into its site. Oh, well. )

"Celebrity architects and good urban design don't necessarily go together, as the architects tend to focus on their building and not the overall neighborhood."

From a reader in Mexico.

"Just wanted to comment that the dispute Fred Kent has provoked with Gehry seems to me an example of a frequently encountered problem with American approaches to discussions: the tendency to fall into black and white camps.  Gehry's architecture is unique.  That his Disney hall isn't likely to fit into a dense urban street doesn't make it unacceptable: a whole neighborhood of Gehry architecture would be overwhelming, but pieces here and there keep things interesting. And Mr. Kent might remember that thriving cities aren't created from the top down or by city planners or by dictates based on social science surveys.

"There are a few rules: a need for some density, a need for variety, a need for pedestrian life.  Gehry's Guggenheim museum in Bilbao meets these criteria: it sits right in the midst of a city and has indeed contributed to its life.  And if a building is set back, people do respond to parks and museums and grand sites. And perhaps one has to acknowledge the uniqueness of Los Angeles as a more suburban city than most, so maybe the Disney Hall is just right for it, though I see nothing that contributes to suburbia in that or any of Gehry's other designs. They are indeed provocative and startling and they do wake us up to possibilities of using space."


From a reader in New England (I assume).

"The next time you're in the Boston area, I recommend visiting the Gehry-designed Stata Center, on the MIT campus.  It's very pleasant to visit, and a welcome visual break from most other MIT buildings (which have their special utilitarian charms; that's another story).  But I'm glad I didn't have to work there.

(Stata Center, Wikipedia photo)

"To observe one of the most amusing bugs in the building design, visit the fourth-floor seminar room, next to the faculty lounge.  After this room was built, they discovered that the creatively-slanted walls and wall panels induce vertigo in almost anyone who steps into the room. (They fool your eyes into thinking the floor is tilted, which conflicts with the information from your inner ear.)  The effect has to be experienced to be believed.  They don't hold seminars in that room now; its primary function is now the amusement of visitors."