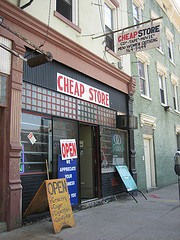 To Reason and Beyond has been dormant these last few weeks, thanks to an arduous promotion schedule for my new book: "Cheap:  The High Cost of Discount Culture." Those of you with the inclination can seek said book AT A DISCOUNT on Amazon , and readers who do not yet have the inclination may be persuaded by the review in Sunday's New York Times Book Review.  Those who still have a niggling feeling that CHEAP is not for them may seek out still another opinion at Salon.
Seeing the world through the lens of CHEAP, one can't help but notice how so much depends on price. We think of price as objective, flat, purely informational, but it is not. Price sparks emotion like little else. Price can lead us to make decisions that we might not otherwise make - both personal and political. Things we'd normally refuse to do we will do when the price is right. And when the price is low enough, we tend to overlook so many things - quality, durability, usefulness, how the thing was made and who made it.
History tells us this was not always the case - "Cheap merchandise means cheap men," President William McKinley said over a century ago. Predatory pricing was once considered bad business - bad for workers, bad for citizens, bad for merchants. But that's not longer the case. Still, we can't avoid the nagging feeling that the propensity for cheap goods has landed us in a pickle - today, the China Price rules. We're told that's okay, that the world "is flat," but the global playing field looks plenty lumpy to me.

Rule of law makes it difficult to produce things at the China Price, so we go where rule of law is loose or absent, take what we need, and leave. Sometimes we leave great fortunes, for the few. Often, we leave a great mess - in environmental degredation, human rights abuses, that sort of thing. This is not sustainable, and it has certainly come back to haunt us - in job security, in economic stability, in just about every aspect of our lives. So next time you find that terrific bargain on tube socks or t-shirts or electronics, you might want to ask yourself - do you still not believe you're getting what you pay for?
(Photo: Flickr User ZannaLyon)