Time for a design / Gehry / public space update
It has been a while (background here, begin from the bottom). Four correspondents weigh in, starting with a response to the previous post about Frank Gehry's Stata Center complex at MIT.
An MIT grad student writes:

A reader you quoted the other day on your blog reported that a certain seminar room in Gehry's Stata Center at MIT causes vertigo and is no longer used.  I happen to work in that building as a graduate student, and the story isn't quite as juicy as your correspondent told it.

It's true that according to old-timers, when the room was first built, it caused some people to experience vertigo.  But according to the same story as I've heard it from many people, they swiftly put in some large conspicuously vertical objects like rolled-up rugs and the problem was solved.  In any case, the room is regularly full for seminars and I've never heard a complaint of vertigo in the present.

The building certainly has its practical problems, though.  For one thing, it's said to cost twice as much to maintain per square foot as any other structure on campus.  For another, it's tremendously spendthrift of MIT's only resource even more costly than money -- space. For most of the building's height, the floor plan contains only two towers dwarfed by the sprawling footprint at ground level.  An aerial photo [by Philip Greenspun] illustrates this very well: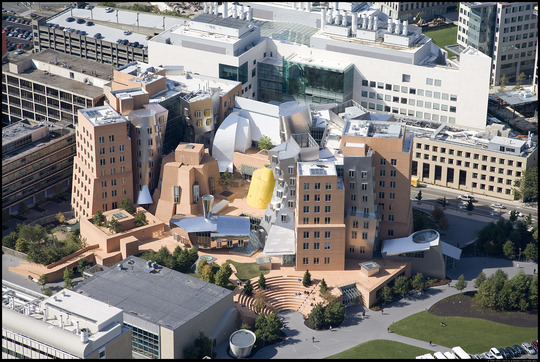 Another reader writes, sort of in defense of Gehry:

So far none of your correspondents has taken up the relationship between single buildings -- which is what architects, especially stars, mainly produce -- and public spaces.  Spaces need design, but it's a different skill than creating a building -- a complementary one, and not usually found in the same person.  (The Campidoglio is the exception that proves the rule: not only was Michelangelo, obviously, exceptional himself, but his design separates that space from the bustle of urban Rome.)

I'm inclined to tolerate arrogance on this matter in a Gehry, even when genuinely offensive, because I think the responsibility for public spaces has to be shared more broadly -- just as the monuments, if any, are plums in the pudding of the urban design, the architects can be expected to be outliers in the design community.

Reader #3, more fully in defense of Gehry -- and certainly more critical of his critics -- says:

I wanted to chime in a tiny bit about the Gehry thing, with some context. I think it's fair to say that Fred Kent is a widely known but not particularly liked figure in the architecture world-- or perhaps I should say the "capital-A architecture" world. Project for Public Spaces, the organization Kent founded and runs, has a regressive streak that is at odds with a beliefin architecture as a potentially provocative, avant garde, response to the world. I don't have to tell you Gehry epitomizes that sensibility, nor that the hero architect shtick regularly backfires, with occasionally disastrous consequences for cites and "public space."

But-- and here's where I cheer Gehry on, and tell Kent to take a seat-- that's not a reason to stop believing in the transformative potential of buildings, which is what the pabulum Kent spouts seems to argue. Especially not when there are architects like Gehry who come around every once in a while.

Architects can be megalomaniacal. But Gehry has proved his value, and his sensitivities, and so no, the question does not apply to him. He is special. His buildings are special. On the other hand, it takes a special kind of arrogance on Kent's part to grandstand like it sounds like he did, knowing full well the richness of Gehry's contribution, and the mounds of crap that's out there otherwise. [Note: I am staying away from most ad-hominem that's come in, especially when I'm not using the writers' real names; but since a lot of people have let Frank Gehry have it in very personal terms, on equity grounds it seemed right to include one sample of personal criticism of his antagonist in the Aspen discussion.]

Reader #4, with the ever-desirable Chinese angle:

I also have an opinion about these so-called starchitechts and their iconic works. I'm all for innovation in architecture, and I love seeing this futuristic monstrosities rise up over the skyline. However, I feel that most big time architects these days are thinking only about breaking the aesthetic rules of architecture, and not spending much time thinking up architectural solutions to our current problems. They're putting even less time into the technological implementation of their dreams. For instance, Gehry's buildings are notorious for springing leaks and other problems upon opening. Though I like the pretty lines, I'd settle for a well-built building. Perhaps you could ask readers to recommend favorite architects who actually manage to pull it off.

I'm much more familiar with Koolhaus's recent work, the CCTV Tower in Beijing. While I think the façade is beautiful, I give him two thumbs down for innovation. According to a friend in CCTV, the building causes more problems than it solves. First, when the building was being put together, there was still no existing technology for washing the windows on the inward sloping walls of the building. Every solution offered by contractors was too troublesome and expensive, and I don't think they've figured out a solution yet. Secondly, they were unable to install working plumbing anywhere in the segment that bridges the gap between the two "pant-legs". Thirdly, and possibly most absurdly, I hear that one cannot travel from the first floor to the top floor without changing elevators twice. I can't verify any of this, but it all makes sense if you know a bit about starchitects and CCTV's schizophrenic organizational culture. I would have a much higher opinion of the architect if he could construct an outrageous building that didn't have these problems. Oh, and for the record, Mr. Koolhaus is apparently furious over CCTV's choice of helipad, which destroys the clean lines of the building.