Thomas L. Friedman's column on Tom Watson, "59 Is the New 30," is a reminder that there continues to be a global pensions storm as well as a US health insurance debate.George Magnus pleads for (further) raising retirement age in the Financial Times:
Average life expectancy at birth in advanced economies is expected to rise from 77 to 83 in the next few decades. The population of over-65s is expected to double, while the number of over-80s will grow even faster. Meanwhile, low birth rates mean the working-age population will grow slowly or decline. The resulting rise in dependency of the over-65s on the working age population will be unprecedented. Unaddressed, it will create financial stress for individuals and the state, rising pensioner poverty, social dislocations and the possibility of intergenerational conflict.

Retirement is a fraught subject because people of the same age bring such different expectations to it. Over the last few decades, as health and longevity of older people have improved, retirement ages have dropped. But why? Is age discrimination to blame? That depends on whether you believe the  Wall Street Journal or USA Today. Or do the statistics reflect a sense of a relatively carefree period of travel, hobbies, and time with grandchildren that more and more people see as the best part of life. The blog Soul Shelter, citing Charles Lamb's famous essay "The Superannuated Man," about his own transition at 50 as a clerk in London's India House, suggests that we have been ambivalent about retirement for a long time.
Source: Murray Gendell, "Retirement age declines in 1990s,"
Monthly Labor Review, October 2001, via Federal Reserve Bank of Minneapolis Gazette, full article here.
In either case, government-supported retirement started 120 years ago at the initiative of Chancellor Otto von Bismarck with an explicit link between age (70 originally) and incapacity, not leisure. As Emperor Wilhelm I put it in his address to the Reichstag in 1881,  "those who are disabled from work by age and invalidity have a well-grounded claim to care from the state." [emphasis added] The Kaiser and his minister were thinking of coal miners and spinning machine hands who deserved medals for surviving the machinery, dust, and noise into their 60s, let alone 70. Even then, many of the powerful saw things differently for themselves. When Wilhelm's son Wilhelm II retired Bismarck involuntarily, the Iron Chancellor was 74 and not entering his golden years joyfully, as the textbook-classic cartoon drawn by Sir John Tenniel (age 70), "Dropping the Pilot," makes clear: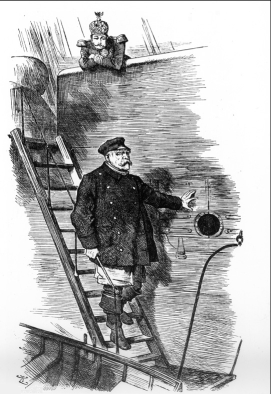 Source: Wikipedia