From a purely beer-oriented point of view, mainly missed opportunities. (PS: the Atlantic has ample other commentary on this crucial issue.)
Pres. Barack Obama: Bud Light. Oh, please.
Prof. Henry Louis Gates: Red Stripe. Bud Light with a more interesting label and pedigree. Without the label, not many people could tell this from the watery Tsingtaos and Yanjings that were until recently the bane of my existence. Truth of the modern age: lagers the world round whose brewers go easy on hops and malt have a certain je ne sais quoi nothingness.
Sgt. James Crowley: Blue Moon Wheat Beer. OK. Faux-microbrew. I don't like wheat beer, but at least it's an identifiable flavor.
VP Joseph Biden: Non-alcoholic Buckler. Can't criticize that.
What would have seemed the obvious, gimme choice for the host: Sam Adams. Respectful to the Boston guests. All-American. Patriotic. Available in many styles. Beyond reproach on flavor.
Backup choice: From the Veep's own home state, anything from the imposing Dogfish Head line. Delaware is tiny but, on the strength of this brewery, the Pocket Hercules of beermakers.
Update: H.L. Gates goes for Sam Adams Light on the second round. Well done!
By the way, on the "life is unfair" front, I still cannot get over the fact that, after
scrounging
across Asia these
past years
for the rare bottle of hop-flavored beer, in America I can walk into the neighborhood Safeway and walk out with (on deep-discount sale) ...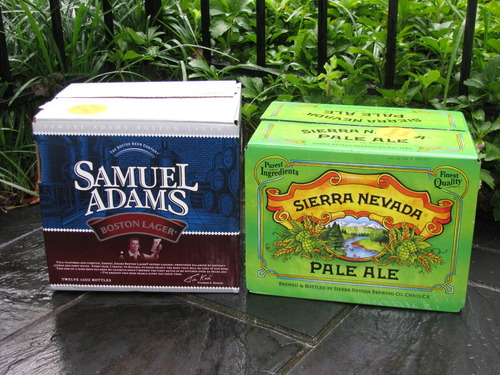 USA! USA!