My new favorite gadget: Livescribe Pulse pen
Where was this thing when I got started in journalism many eons ago??? Yes, yes, I know, the electric typewriter was the frontier of writerly technology back then; and being able to use this device as of 2009 is a lot better than never having found it at all. But if you're in any line of work that involves recording what you're hearing or seeing around you, give this serious consideration.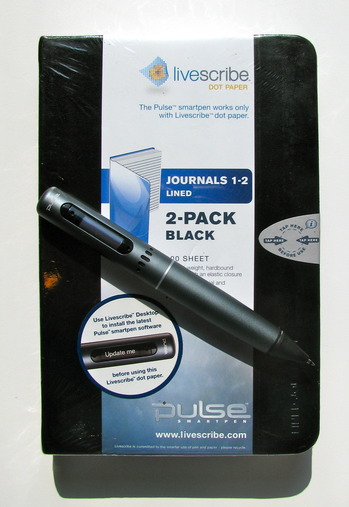 Here's how it works: The somewhat plump looking, cigar-sized item, propped on a pack of special notebooks above and below, is both a ballpoint pen -- and a very sensitive, high-quality, high-capacity tape recorder. I find it better than the digital recorders I've previously used in picking up voices in real-life circumstances, including interviews in crowded restaurants, auditoriums, airport tarmacs, etc. The pen I have holds up to 2GB worth of recordings -- many many many hours' worth.

But in addition to recording sound, the pen also includes a very small camera at its tip, which many times per second takes pictures of whatever you are writing in the special notebooks. You don't have to use the notebooks or write anything at all, and can just treat the system as a normal recorder. But if you do write something in the notebook, the pen registers exactly what sound you were hearing at exactly the moment you are writing a certain word, letter, or doodle. Then when you want to hear the recording, you can point the pen to that word and hear what was being said at the time. More on how it works
here
.
What does this mean in practice? Suppose you're having an hour-long interview, in my case -- or listening to an hour-long lecture as a student, or sitting through an hour-long business meeting. When something comes up that you want to remember, you can write a note at just that point ("Interesting point about Poland") and later go back to get just that part of the conversation. You do so by touching the pen's tip to the relevant phrase in the notebook, or moving your cursor to it on a stored online image of the page. No searching through the whole hour's recording; no need to make sure you write down every detail in real time. I have used this often enough over the past two months to know that it really works, and to rely on it.
I shouldn't say too much about another aspect of the system, but still: people who see you using the pen will know that it looks a little funny, compared with normal pens. But they might not know that it's a functioning tape recorder. Unless you tell them, as I have been careful always to do. So far.
Seriously, check it out. Windows and Mac; archives your recordings on your computer and/or in the cloud. My 2GB version retails for $199; models and prices
here
.
 Tech explanation, if you're interested: pages of the special notebooks, which cost $5 and up in various
configurations
, are covered with virtually-invisible microdots. The pen's camera maps the exact dot it is over with the corresponding exact moment of sound recording. Later when you point at that word -- with the pen in your notebook, or with a mouse on a stored online image -- it immediately comes up with the associated part of the recording. For the record and because this often needs to be pointed out in the world of tech journalism: I paid for the system. Also: the pen I originally had developed tech problems and would unexpectedly stop recording partway through a session. The company said it had never heard of such failures before, fwiw. In any case they replaced it with a new one, which has worked faultlessly.