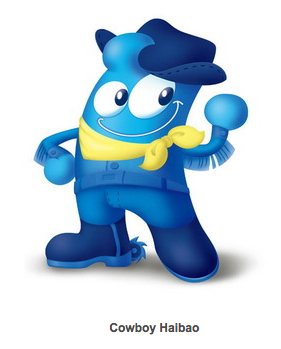 As mentioned earlier (eg here), America's participation in the impending Shanghai Expo 2010 has been in question, because of disputes and uncertainties about who would design, build, and (especially) pay for the US pavilion. Likely consequence was much shame and embarrassment for the U.S. and loss of face for its would-be Chinese hosts. Left: Haibao, beloved mascot of the Expo, in Wild West Americana gear -- from this gallery of Haibao in an assortment of folkloric outfits.
On Friday a deal was struck to finance and move ahead with the pavilion. Official announcement here, from the site of the U.S. Consulate in Shanghai. Update on Adam Minter's Shanghai Scrap site, which has been following the action, here. More news to come on various sponsors,  supporters, and consequences. Phew!
By all reports. Sec. of State Hillary Clinton played a crucial role in making sure the Expo bid happened. Here we see the victorious team: Sec. Clinton (left); Jose H. Villarreal, the newly appointed U.S. Commissioner General to the 2010 World Exposition (right), who worked hard to put a deal together after his appointment on July 1; and Haibao (center). Another excuse to get back to Shanghai...