Discouraging news out of Oshkosh
For previous cheerier news, see here, here, and here.
The most absorbing drama in the small-plane world these past few months has been the separation between Alan Klapmeier, who with his brother Dale founded the now highly-successful Cirrus aircraft company; and the company itself. (For background on the Klapmeier / Cirrus saga, see Free Flight and this article. To see a recent sample of Alan Klapmeier in action, go here.)
The simplest way to think of it is this: Cirrus has essentially been the Apple of the small plane business. A "think different" approach compared with the rest of the industry -- for instance, the famous whole-airplane parachute that lets the craft and passengers drift to the ground in case of trouble. Very attractive design. Attention to nice little details. Using technology to make things simpler rather than more complex. And, with its SR22 models, an iPod / iPhone level of worldwide market success.
In this comparison, Cessna would be the PC equivalent -- staid, steady, established -- and Alan Klapmeier would be the Steve Jobs counterpart. Dramatic, attention-drawing, sometimes impossible, visionary, beyond doubt the personality of the company. Naturally better at explaining the disruptive potential of new technology than working through a spreadsheet to cut costs in tough times. I should say that I think of him as a good friend. (Below: Alan Klapmeier and the jet, earlier this week at Oshkosh, photo from Lane Wallace's post from the air show.)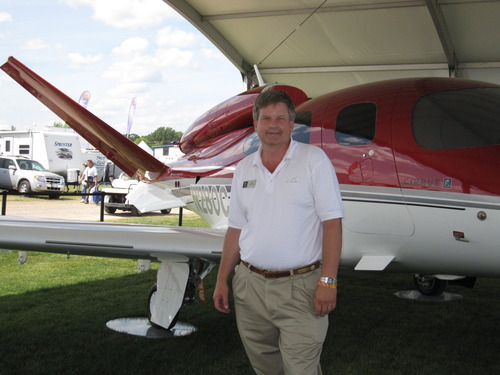 So in the current downturn, as the company dramatically cut back to survive, Alan Klapmeier left as CEO of Cirrus. But he has been talking recently about raising money to continue development of the Cirrus Vision personal jet that had been his, well, vision since the time I first met him in Duluth ten years ago, and certainly long before that. From the Cirrus company's point of view, where his brother Dale and many long-time comrades are still major figures, selling the jet project to Alan Klapmeier would have both pluses and minuses. Plus: it would free the company of the heavy development costs but still keep the jet as an allied, fraternal project rather than letting it go to a real competitor. Minus: Cirrus would turn into a piston-airplane-only company, and although its piston/propeller planes are the market leaders, that would limit its potential. From the outside world's perspective, the main plus of any deal would be re-engaging Alan Klapmeier's energies in the business -- again, something like bringing Steve Jobs back into the main arena after his time at NeXT.
Just now the invaluable AVweb site reported that the deal had fallen through. I am biased in favor of all parties to this interaction and hope that something can work out. But for now, the news is that it hasn't.