From Shannon Kirwin of Beijing, this photo of a "Help Wanted" sign outside the Postal Hotel (邮政宾馆) in Kashgar in China's Xinjiang region a few days ago. Click for larger.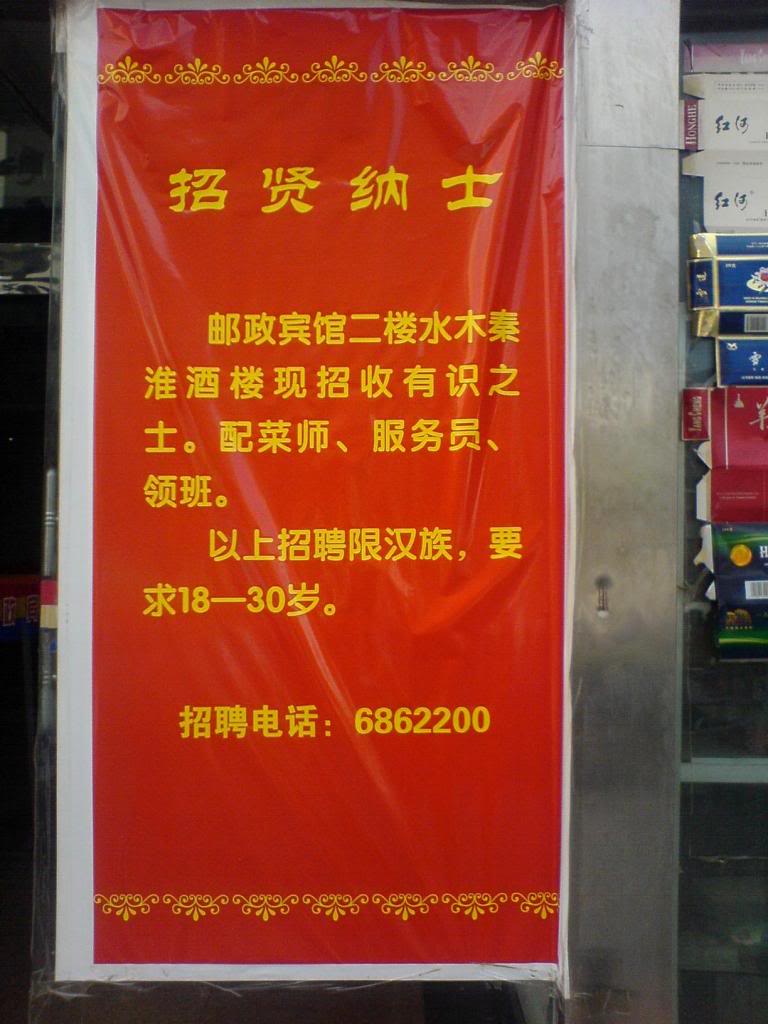 Here's the significance of the sign: It's an advertisement for restaurant staff at the hotel, in roles from cooks to supervisors. Kashgar, of course, is a historic trading town on the extreme western frontier of China, much closer to Lahore, Kabul, and New Delhi than to Beijing. The original population there would be of Uighur or other Turkic ethnicity, rather than Han Chinese. But the last line of the advertisement says, "This offer is for Han Chinese (汉族) only, ages 18-30."
Shannon Kirwin writes,

"I completely agreed with Glenn Mott's analysis of the riots as a variation of the same race riots we have experienced in the US.  In large part the frustration with the Chinese regime that many Uighurs expressed to us throughout our travels in Xinjiang seemed to stem from everyday insults and degradations such as the one pictured here.  We were also told by people in several different cities that there is an unofficial policy of denying ethnic Uighurs passports until they reach retirement age, particularly if they are applying to visit Mecca. 

"Just to describe the scene a little more, the hotel, the 邮政宾馆, is located on a major street corner that is a neighborhood gathering spot for fruit peddlers, motorcycle taxi drivers, and residents.  The sign is enormous and impossible to miss."