I am guessing that you will see no real-time TV reports from the Tiananmen Square area today, and little or no photography. This is based on personal experience there last night, China time, which also leads to personal advice for anyone in Beijing thinking of going there today.
During my time in Beijing over the past year and a half, I've often seen the square itself totally closed off to visitors, as it is at the moment. There are always plenty of security forces around -- soldiers in green uniforms, various kinds of police in blue uniforms, and "plainclothes" forces who are pretty easy to pick out, like strapping young men in buzz cuts all wearing similar-looking "leisure" clothes. But I have not seen before anything like the situation at the moment.
There are more representatives in all categories -- soldiers, police, obvious plainclothesmen -- than I recall seeing even during the Tibet violence in early 2008 or through the Olympic games. Also many people whom you would normally classify as fruit vendors, tourists from the Chinese provinces, youngish white collar workers male and female, and skateboarder-looking characters wearing cargo shorts and with fauxhawk haircuts, were last night walking up and down the sidewalks with their eyes constantly on visitors and drifting up next to people who were holding conversations.
The way to avoid their attention is keep moving briskly along the sidewalk rather than stopping as if you think there is something particular to look at in the square today. The way to draw it is to stop and look around, to pay attention to the security forces themselves, or to have a camera in your hand. If the camera comes out, it may be pointed at one of the scenic highlights in the center of the square. A nighttime glamour shot of the Great Hall of the People, taken from across the Square with a glowing Monument to the People's Heroes in the middle ground (and no actual people in the square) is within bounds. This is how it looked last night: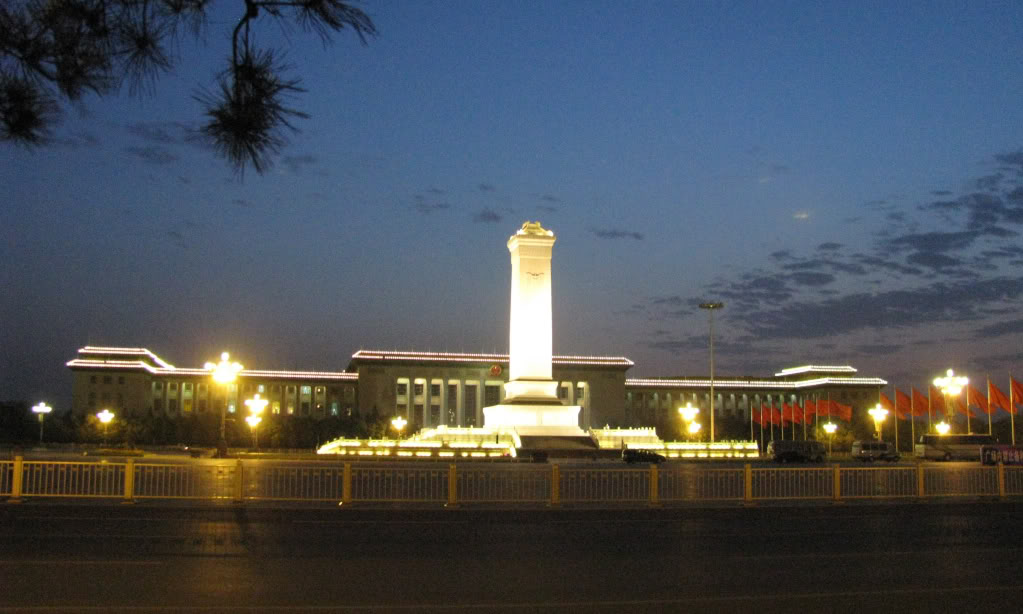 A view down toward Mao's Mausoleum, again across an emptied square, is also OK.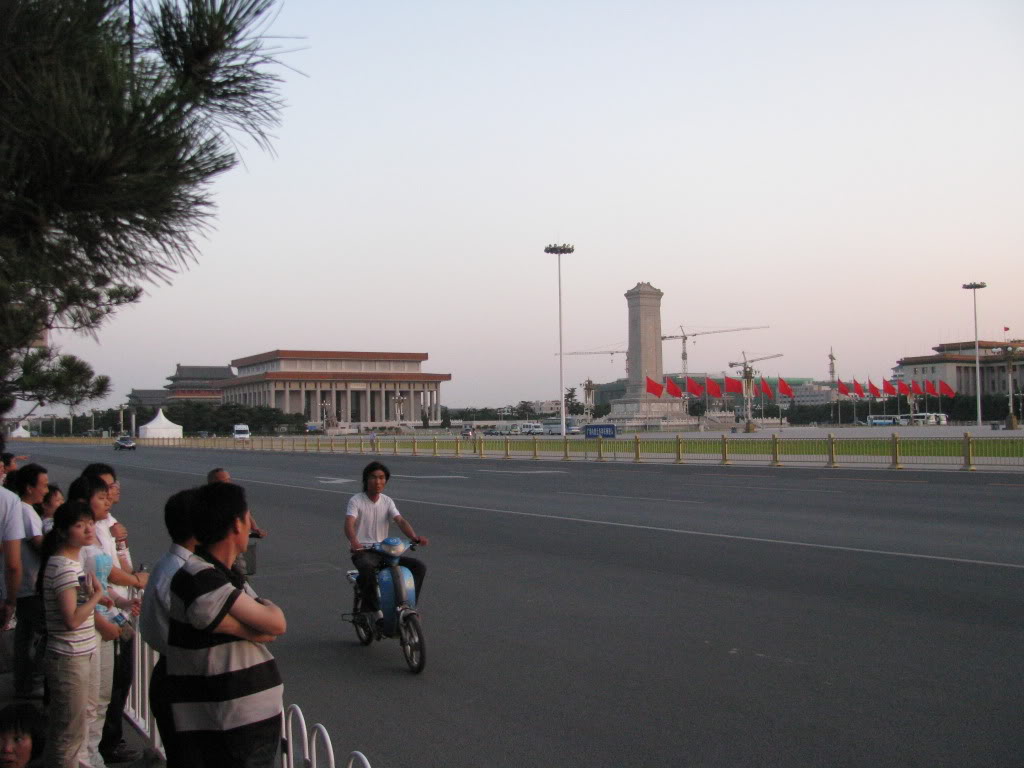 But to point a camera in any direction not shown in these shots is to ask for immediate trouble. In particular if security forces in any of the categories above are in the field of view. I say this with first-hand certainty, based on experiences I will describe later when I am living someplace else.
Two other, related notes: As reported yesterday, CNN is still blacked out whenever words like "In China today...." or "Twenty years ago in Bei...." come across the airwaves. Whereas BBC TV is airing uncensored footage of tanks in the square twenty years ago and repeatedly using the phrase "Tiananmen massacre." And just as I type, the admirable Quentin Somerville of the BBC is talking, live from Beijing, about the "ruthlessness at the heart of the Communist government." (And just this second, in a Borges-worthy moment, Somerville said that international coverage was being blacked out across China -- so I got to see him saying that I was not able to see him. Still, the general point is true.)
Second note: Hillary Clinton's official "Message on the Twentieth Anniversary of Tiananmen Square," here, was necessary, appropriate, properly phrased, and -- even though it will have no effect inside China -- exactly the right thing to have done. More on this theme shortly.
Back to practicalities: if you in Beijing and are near the square, be careful. Seriously.