I am no longer based in China, but am not yet actually based anyplace else. So this might be the last dispatch for the next week, and it's on the fly from yet another airport wi-fi site. Sketchy for-the-record remarks:
1) After 60+ hours in America (and on the way out again): Life is so abundant! Even in a downturn -- and, yes, in Washington, not Flint. Everything looks so comfortable and lush! The air is so clean! (Today's reading in Beijing: "Hazardous.") And the cell phone coverage is so crappy! I can barely recall a moment in China when I was out of signal range. Today alone in Washington, half a dozen dropped calls. Yes, yes, I know the reasons for this. But the difference is impressive.
1A) Bad part of my character as revealed by travel (part 2,847): When approached by spare-change panhandlers I have to bite my tongue to avoid giving the "do you know what people put up with in China?" speech. Yes, yes, I know why this is wrong.
2) Positive aviation development of the week: flight of a new all-electric plane, here.
3) Negative journalistic development of the week: the Washington Post's insane decision to fire its media-political blogger Dan Froomkin. (I know Froomkin only through his work, not personally.) We all have heard the reasons that the press is under pressure by forces not of its making. This is an example of a self-inflicted wound. Are papers like the Post under suspicion for being too insidery and old-media-y? How does it make sense get rid of an independent minded, new media, presumably not-that-expensive, non-Washington-cliquey voice on politics and the media and leave... well, the full opinion and media lineup the Post is sticking with? Some people tell me that it's a mistake to say that the Post's editorial page (and the weight of its op-ed lineup) has "become" neo-con and establishment-minded under its current editor, Fred Hiatt; the argument is that this is the Post's long tradition, which its anti-Nixon crusade concealed. I don't know. But I would have liked to have heard the argument about why Froomkin was the necessary next person to cut. More later.
4) "There will always be a China" anecdote of the day. This comes from a Chinese friend I know and trust but, for this person's own sake, will not identify. My friend asked a CCTV producer (whose name I also know) about the mystery I mentioned last week: what on earth the weird ... thing on top of the otherwise-clean CCTV tower was. Reminder: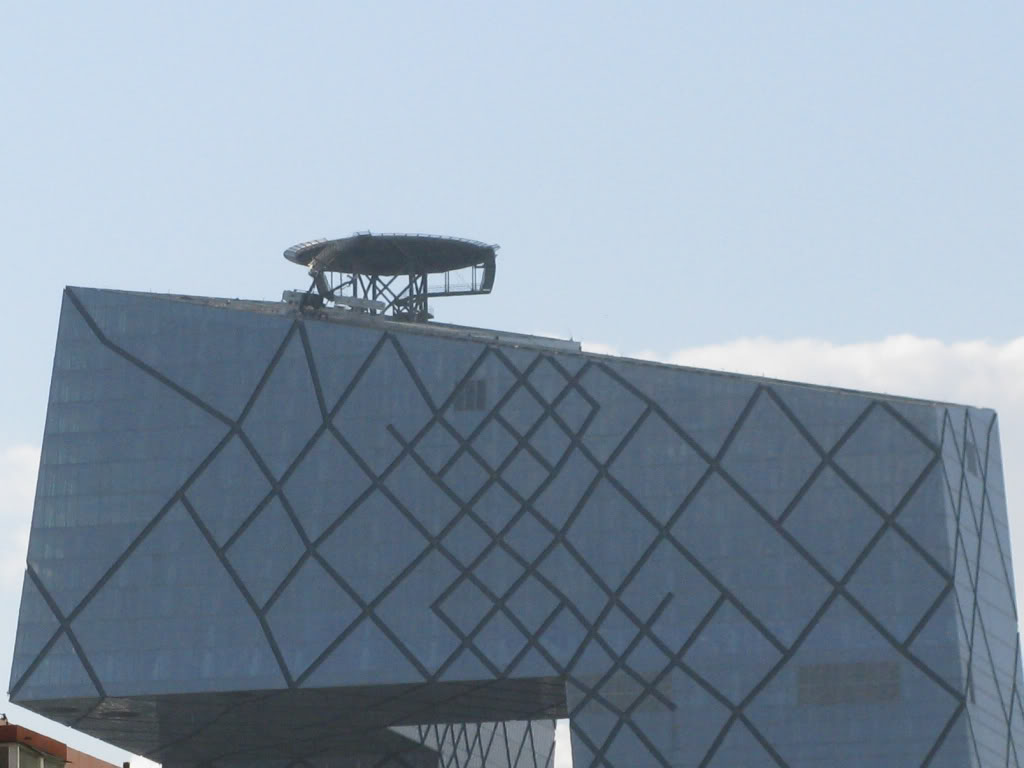 Here is the report from my friend, recounting a conversation with the producer:

Me [my friend]: Do you know what that huge round thing protruding on the top of the main CCTV building is?
Producer: What?
Me: It looks like either a misshaped radar or a helicopter landing pad...
Producer: Why are you asking?
Me: Just curious.
Producer: Well, don't be curious. You know it's a very sensitive period here at CCTV, because of Fang Jing's "spy-gate" incident. Don't ask such sensitive questions.
Me: Why is it sensitive? That huge thing is right there on the very top of your landmark. Everyone could see it, even from far away. You've never thought about what it is? Nobody asks about it?
Producer: No... No one. Seriously, stop asking about it!

Words to live by. With that, I leave you to my Atlantic colleagues for a week.