Our wacky government, chapter 21,472 (updated!)
A friend preparing to enter the foreign service was looking through the official list of "hardship" posts and the extra pay that goes with them. Some are obvious -- Kabul! I have no idea what embassy life is like there, but 35% seems only reasonable.

Same presumably true of Iraq, no matter how much "calmer" things may be getting there.

But... China?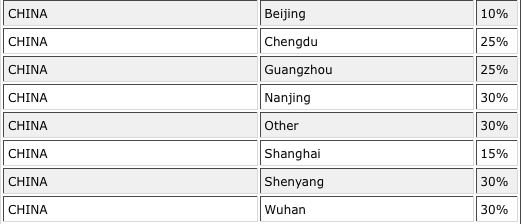 Yeah, yeah, I've griped about pollution and traffic in Beijing, and maybe 10% is fair, all things considered. (Hey, Atlantic head office, just a hint!) But half again as much "hardship" to be in Shanghai??? Paris of the Orient, and all of that? And while Shenyang has its bleak side and Wuhan and Nanjing are two of the famous "Three Furnaces of China," it's intriguing that they should be seen as constituting nearly as much hardship as Kabul. Maybe just a reminder of the oddities that come when you try to quantify things that really aren't similar. (Hardship in Kabul: actual risk to life and limb. Hardship in Shanghai: making do with REEB beer.) On the other hand, we have a friend soon heading off for several years' diplomatic service in Wuhan. As far as we're concerned, she deserves every cent.

UPDATE
: Many FSOs and other public employees have written in to say that "hardship pay" is only part of the story. There is also "danger pay," which obviously is higher in a place like Kabul than one like Wuhan, and other supplements. One representative note:
I'd like to point out that the hardship differential is not designed to compensate Foreign Service Officers for dangerous duty. The hardship differential is paid for a variety of reasons: if the duty location is heavily polluted, or if it is very isolated, or if it is in a very poor area and amenities are hard to come by, and so forth.  It's basically an incentive for FSOs to bid on tours in places where life will be very uncomfortable.  I don't know about the air in Beijing, though I've heard it's very bad; I do know about the air in Cairo, which is so bad that it does the damage of smoking several packs of cigarettes a day.  Hardship pay basically compensates FSOs in places like Cairo for sacrificing their health to serve their country.

Hardship pay is separate from danger pay, which is paid for tours where life and limb are risked.  There are also COLAs for tours in countries where cost of living would be very high; this could be a tour in a very wealthy country, where everything costs an arm or a leg, or in a country where a terrible exchange rate wipes out a good chunk of every pay check, or in a country where everything has to be imported and therefore costs a fortune.  There is also separation pay, which an FSO can receive for an unaccompanied tour that entails
separation from one's family.  An FSO could, in theory, earn multiple compensations for going on a poor, isolated, polluted, dangerous tour.

Sorry to tell only part of the story the first time through. By the way, this is an interesting little illustration of the weaknesses and also strengths of online reportage. For the print version of the magazine, I would never have published something without calling around to several people to say: OK, let's hear more about this foreign-pay schedule. What's the rationale? What else is involved? And whether or not I'd done that that, Sue Parilla or Yvonne Rolzhausen or some other member of our crack fact-checking team would have done it too. So, this kind of chart without the extra info would not have made it into the magazine.
On the other hand, in print I would never have had the chance to hear from people around the world within minutes of pushing the "save" button -- and make a correction as soon as I saw their comments when I next got email. Different media, different roles, different vulnerabilities and strengths.