OK, one mystery solved (updated)
I mentioned last night my puzzlement about why and how the dramatic new CCTV tower, whose entire point was the stark simplicity of its design (by Rem Koolhaas), had been junked up by an inexplicable and unignorable wart on its roof line. This is in keeping with the theme of last month's Atlantic article, about the tendency of many projects here to turn out almost right.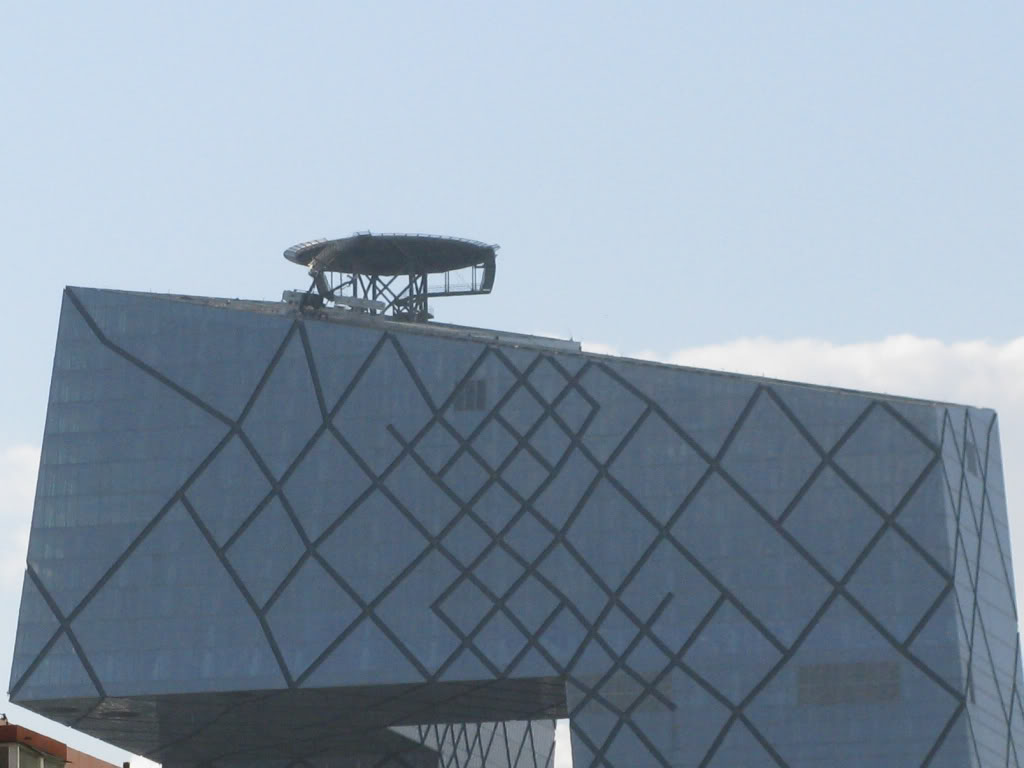 I am grateful to readers who wrote in suggesting that it was a window-washing platform, which would move along rails around the perimeter (no, it's always in the same place); or perhaps a giant satellite dish (no, as is obvious from other views).
The dispositive comment came from Jim Gourley, who reminded me that he had pointed out last year on his Rudenoon blog that it was indeed a helipad; that something similar had been in the works for a long time; but that the original idea was for something much more contained and concealed that would do less to destroy the overall look of the structure, as has now occurred. From his Flickr picture of the earlier plans: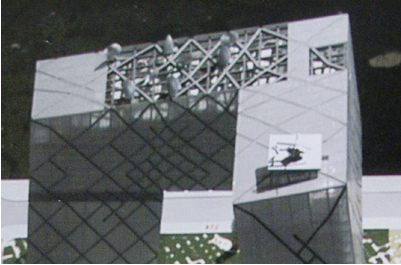 And Jeremy Goldkorn, of Danwei,
had pointed out
just before the Olympics began that "The iconic new CCTV building designed by Rem Koolhaas has had its clean lines ruined by the addition of a helicopter landing pad on the roof." Now I know. If only there were ever any helicopters in sight above Chinese cities.... (Separate topic.)
To round out the CCTV theme, a very
nice FT story
by Kathrin Hille quotes Tong Bing, a Chinese journalism professor, on what's wrong with the (state-controlled) network's mainstream news show:
"Currently, the programme has three parts: political leaders' activities for the first ten minutes, other news for second ten minutes, and international news for last ten minutes," said Mr Tong. "During the first part, people tend to watch commercials. They use the second part to go to the toilet. Only for the third part will they come back to listen."  >

 >
(Thanks to D. Lippman
 >)
Update
: via
Micah Sittig
, info that Tong Bing's observation is a cleaned up version of a standard joke. For rendering of the joke in Chinese, see comments #24 and #29 at
this site
. English version, per Sittig, "Evening News classic summary. First 10 minutes: the (national) leaders are busy; middle 10 minutes: the Chinese people are prospering; last 10 minutes: the rest of the world is living in chaos and hardship." Commenter #29 points out that he often amuses himself on foreign travels observing said chaos and hardship.