More on Beijing air (updated)
As chronicled in the months leading up to last summer's Olympics, the air in Beijing was alarmingly dense and opaque as the Games drew near. In the end, it remained bad right through the opening ceremonies and the first full day of competition. Then, a powerful cold front blew through from the northwest, with clear, dry air behind it. And for the rest of the competition, and indeed much of the ten months since that time, the air has seemed far better than before. For day by day photos of Beijing's sky before and after the Games, see this wonderful site by Michael Zhao of the Asia Society. For sample shots of recent "Paradise Beijing" circumstances, see here.
Thus in this context of overall improvement, two recent reports are sobering. The first, by Tini Tran of the Associated Press, says that a joint US-Chinese governmental study, published in the journal Environmental Science and Technology, has concluded that the air during the Beijing Olympics was far dirtier and unhealthier than in other recent Games. The Yahoo news version of the story is here; unfortunately, it contains no links to the scientific study itself, which I don't yet see on the Env Sci &Tech journal's site. [Update: study now on line here.] Among the study's findings, according to the AP:

Researchers found that

particulate air pollution

did drop by about one-third during the two-week Olympic period. But coarser particulate matter, PM 10, exceeded levels the WHO considers safe about 81 percent of the time, while the smaller particulate pollution PM 2.5, which can cause more serious health consequences, exceeded WHO guidelines 100 percent of the time.

The second development is the ongoing failure of the Chinese government to report any readings of, and perhaps even to measure, the PM 2.5 small-particulate level in its big cities' air. This matters because the smaller particles, which go deep into the alveoli, are more damaging to the lungs than the larger ones (background and links here) -- and because, by many accounts, their level in Beijing is once again rising. Earlier this week, the readings from a non-Chinese PM 2.5 monitoring station (background here) again reached the "hazardous" level, as had happened several times previously this spring. Glenn Mott sent me this photo taken at Tsinghua University during the "hazardous" day.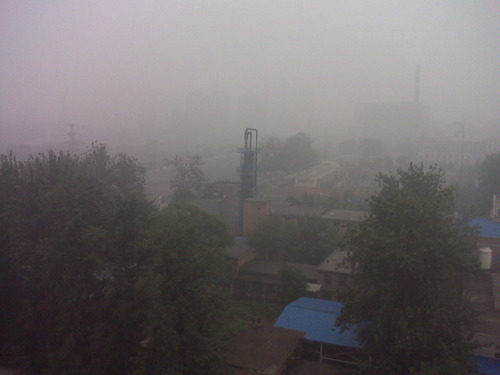 Minor conclusion: perhaps one more indication that China's manufacturing economy is recovering, with factories and power plants up and running again? Major theme: if you needed more convincing that environmental and climate issues in China are a first-order challenge for the world as a whole, perhaps this will help. (Background in the magazine here.)