Aviation update miscellany: good, bad, constructive
Good
. Pilot of a Cirrus SR-22 gets into trouble while flying over North Carolina but has an option. As the Mount Airy News
reports
, the pilot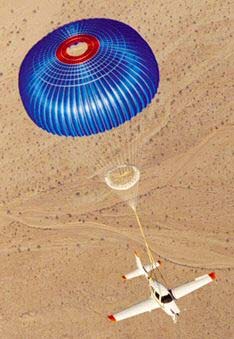 "...was at 6,000 feet when he declared an emergency, pulled the parachute his plane was equipped with, let go of the control panel and floated to the ground about one and a half miles into the woods off Still Water Lane.
"[He] was able to walk away from the site and place a call to 911 to inform them he was searching for emergency personnel and thought he had spotted some of them looking for him."

There are other recent developments involving Cirrus. (Positive: increasing production rate and recalling workers as worldwide sales pick up. Negative: found
partly liable
by a Minnesota jury for millions in damages after a crash in which a non-instrument rated pilot took off before dawn in bad weather and was killed, along with his passenger. The NTSB
traced the probable cause
of the accident to the "pilot's improper decision" to attempt the flight at all. More on these another time.) . Beautiful and elegant Beaver float plane crashes while attempting takeoff near Anchorage last week. (Via Eric Redman.) Not-so-bad aspects: No one apparently hurt, and remarkable minute-long
YouTube video
shot by unbelievably gutsy young cameraman.
Constructive
: In response to an airline pilot's observation,
here,
that he typically has less up-to-date weather info available in the cockpit than pilots of modern small planes like the CIrrus do, former FAA and DOT official Andrew Steinberg writes to say:
"What strikes me on reading this discussion is that the slow pace of implementation of the NextGen air traffic system -- here and in Europe -- means that we don't prevent these preventable accidents (if it turns out that weather caused the demise of this [Air France 447] flight).   As you may remember, providing integrated weather displays to pilots, as well as controllers, is a key part of the Next Gen effort.  It's absurd that commercial pilots don't have these tools.   An article describing how the weather product fits into Next Gen is attached."

The article in question is here. As for the difference this might or might not have made to the Air France flight itself, which got in trouble over the open sea, another correspondent says:
"You know what we (meteorologists) call the oceanic regions?
"The big blue data void.
"It is hard to explain that to people who only look at CONUS." [Continental US, which has radar stations and other monitoring tools wherever you look.]

And another airline pilot writes in to say:
Your point on higher-tech and more real-time weather information being available for GA ["general aviation," small private plane] pilots versus airline pilots is well taken, but disregards an important advantage us 121 [airline] pilots have over aircraft with these XM weather uplinks....

I fly for a Northwest, now Delta, regional and we have access to the same ACARS delivered weather updates as the big boys. [ACARS is an automated data-collection service that shares info among planes in the air.]   Granted they are delivered in text and require manual plotting, but once done they are very accurate and enormously effective.  Base and/or composite reflectivity radar maps can be very deceiving to a pilot flying at FL370, since a lot of the weather depicted on those maps is very low.  ACARS coordinates and altitude of cell tops is often much better information, especially when considering whether to pick your way through a line at night or take a long detour. In addition the dispatchers themselves [airline employees who monitor the flights from the ground], being another human in the loop with even more information, can be invaluable in saving your bacon.  Between myself, my FO [first officer], and my dispatcher, I've got three eyes on the problem- which I'd take over any Nexrad/XM maps any day of the week.
 
Now I admit I'm spoiled flying as I do mostly over the continental US.  Transoceanic would be somewhat trickier given, as you say, the dearth of other traffic over the same route serving as guinea pigs.  That said, given what I know about the resources available to the Air France pilots, I am at a loss for why they found themselves on the midst of such a violent storm.

Also constructive: Carl Malamud, the inveterate crusader for making "public" information truly available to the public, has put online a variety of Federal videos related to aviation, here. This is part of his larger FedFlix effort to digitize films and videos produced by the government, and his even larger PublicResource.org campaign for opening up public data.
Not so good