US no-show at Shanghai Expo: the hows and whys (updated)
Last month Adam Minter of ShanghaiScrap, did our initial Atlantic report on the looming self-inflicted embarrassment of America's no-show status at the 2010 Shanghai Expo / World's Fair.
The strands of the story are tangled, to put it mildly, and have been hard to follow in scattered press reports. So Minter's latest detailed backgrounder is very useful in explaining how things reached this point, why it matters, and what if anything could be done. Among the points he clarifies, in a list of problems that have affected the proposed US pavilion:
 

A.  Cost. Shanghai Expo 2010's [one of the US contenders] $61 million pavilion budget - down from an earlier $84 million budget - is inordinately expensive, and surely the most expensive national pavilion after the elaborate Chinese design.  "For that kind of money [$61 million]," an experienced American businessman in Shanghai told me. "You could build a thirty-story residential tower on that site and still have money left over. But these people want that money for a two story pavilion." In comparison, Germany's elaborate pavilion design is projected to cost US$40.8 million; Norway's elegant structure, a comparatively minor US$22 million. And even those might be overpriced. At the Beijing 2008 Olympics, major commercial pavilions were built for around $1000 per square meter - that is, less than US$5 million. So far, Shanghai Expo 2010, Inc., has failed to provide a detailed public accounting of how it plans to spend its proposed US$61 million, leading to wild and unsubstantiated speculation among experienced China hands in Shanghai.

[UPDATE: I hear from informed sources that there is some controversy about the importance of whole cost issue, with some other pavilions costing more than this US figure -- and the real question being whether the US can spend this much money in a sensible way with so little time to go. More details as they come in.]
One image of the proposed US structure Minter is referring to, from
this site
: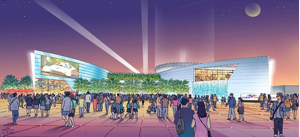 Full set of images of other countries' structures here. One example I like from that site: the Israeli pavilion, with components of the Whispering Garden, the Hall of Light, and the Hall of Innovations. Israel is a tiny country and this is a relatively small structure, but FWIW Israeli's entire budget for the expo, including construction, is $6 million.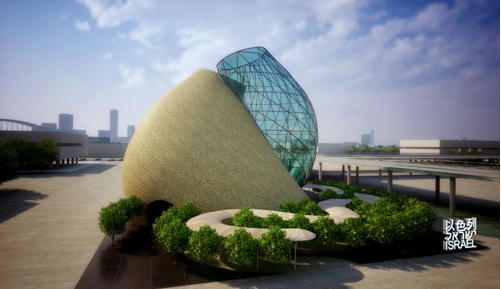 And here is Italy's (no budget
listed
). The story is worth following.