I've mentioned several times before (like here and here) that SugarSync has become one of the programs I would hate to do without. Others, for reasons explained in those previous posts: VMWare Fusion and Google's Calendar Sync tools for Outlook and Blackberry.
SugarSync has just come out with a free edition (with limited storage), and an easier-to-use graphic interface, with example below: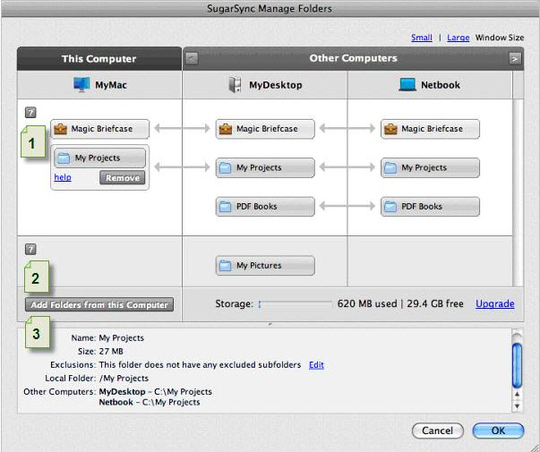 The "what it's for" description of the program is: it lets you work on files on a variety of computers and never have to worry about copying them from one to another when you travel or work someplace else. Like your own personal "cloud" computing. Easily crosses the Mac/PC membrane. In the process, keeps an online up-to-date backup of your files.  Only thing it really is stumped by: Outlook .PST files.
Similarly on the tech theme: I've been using the latest Firefox beta, 3.5b4, in both Mac and PC versions over the last week, without a single hang or crash. If you're having instability problems (as I did) with the latest release version, 3.0.10, consider the beta. It is here.