Now I truly feel like Mr. Beijing
I know people who've lived here for decades, for their entire lives, and have not had the full immersion in Beijing-ology that I have recently been exposed to: an air journey from Nanyuan Airport!
The authoritative Insider's Guide to Beijing is somewhat dismissive of this travel experience:

"Thirteen kilometers south of Tian'anmen, deep in Fentgai district, likes the purgatory of Beijing air travel: Nanyuan Airport. Only travelers with frightening karmic debt end up here -- and all clients of China United Airlines, formerly a military carrier, which bases its operations at Nanyuan."

Probably I have the karmic debt, and for sure I was traveling on CUA -- but I found the experience weirdly charming. It was like a little trip back into the Beijing I first saw in the 1980s: an airport in the middle of a rural neighborhood, trees all around the runways, little hutongs and five-story Mao-era apartments just outside the airport fence. Few intrusions of modernity, like: taxicabs with meters (you bargain) or the for-sissies effect of translated signage. This is definitely not the new Beijing Capital Airport. (Below, my fellow travelers for Linyi, headed toward our CUA airplane on the tarmac at Nanyuan. Linyi, in Shandong province, is another of those Chinese cities few foreigners have heard of but is larger than nearly any city in the US.)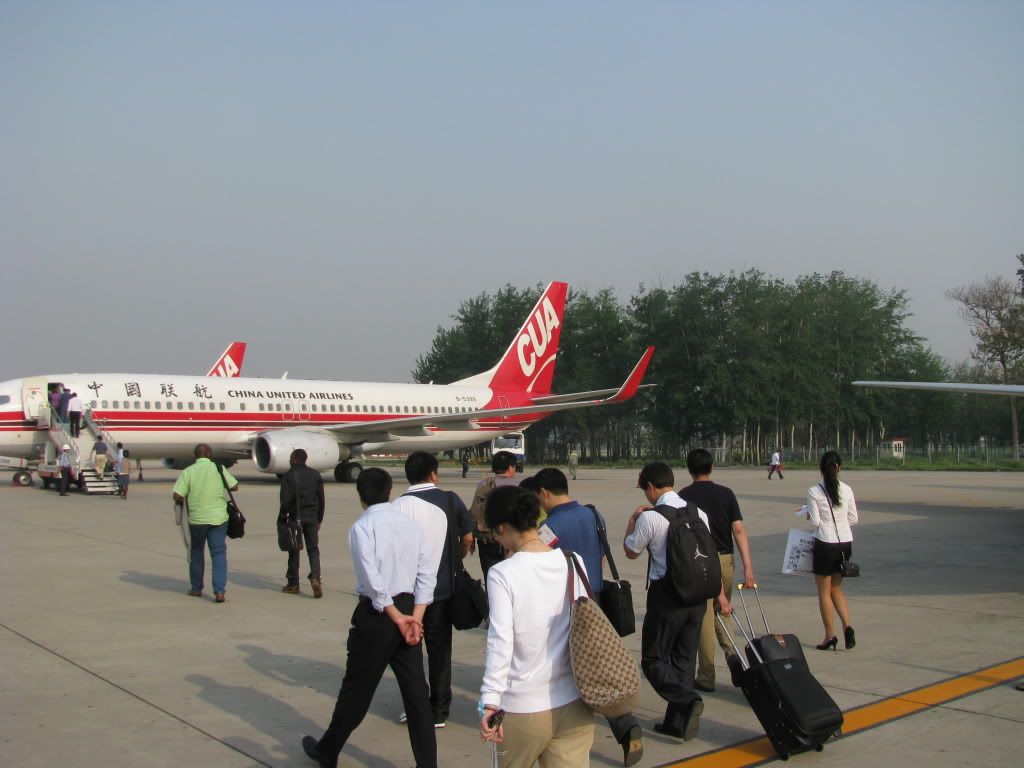 I'll take my nostalgia wherever I can find it. This was an unexpected dose.