The chart below, from David Wolf's Silicon Hutong site, is not meant to be taken in 100% straight-faced earnest -- I think. It's a flow chart for deciding whether to buy a book as a new hard cover, a used hard cover, or a Kindle-style ebook, including the complication that Wolf is based Beijing and can find only so much in the local shops. (I say: choose whatever form you want, but just buy the damned book!!!)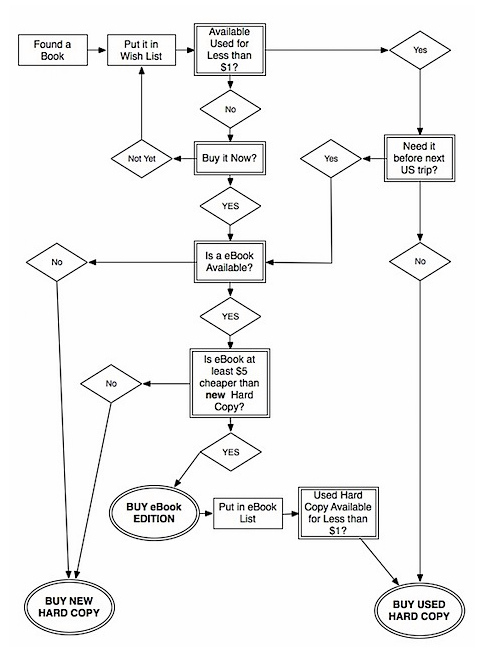 It's connected to a more earnest but quite interesting discussion by Wolf of the role of physical books in a personal library, even when ebooks are available. And I'll use it as an intro to the next running meta-theme here: various aspects of design.
I realize that many of the leads and items I am interested in discussing and thinking about -- once the art course is over and the flu has passed and I'm caught up with, ahem, my "real" work -- really concern design in several aspects.
 Design of cities, including the ones springing up all over China, as hinted at in this introductory Beijing-vs-Shanghai post several weeks back.
Design of "tools for thinking," which generally includes software and which I find particularly provocative and rich in the emerging (for me) intersection of straight text and graphics. I don't mean photo illustrations; I mean "mapping" and "visualization" programs of several sorts that I, as a pure-text guy from way back, find increasingly useful.
Design of hardware for thinking and learning, not excluding the familiar Kindle and the even more familiar PC and Mac.
Design of the working environment, the reduce the threat posed by the Number One Killer of Modern-day Thought, non-stop distraction. 
More on all of that later. This is fair warning. Now, real work again for a while.