Chinese newspaper discussion of the "creativity" problem
Is the discussion about whether Chinese schools foster "creativity" and "critical thinking" confined to foreigners, or to Chinese writing in English?
Apparently not. Today's People's Daily has a
big story
on the results of the
Intel International Science and Engineering Fair
, just completed in Reno. (The Chinese team, from People's Daily.)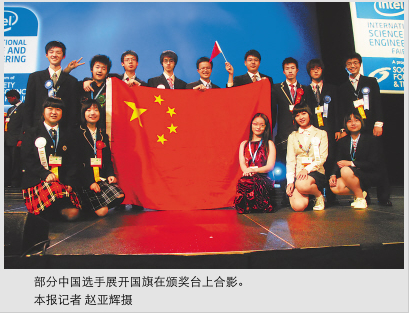 The article notes that mainland China had a large number of entries and won many minor prizes. But it had no real successes -- and the question was why.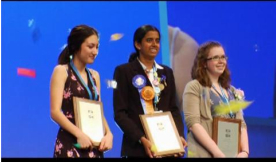 The three overall grand-prize winners were all
young women
from American high schools, shown here. For individual best-in-category prizes -- 18 total according to People's Daily, 19 total
according to
Intel -- all but one went to American students. That one exception was from Taiwan.
What's the problem?  The article discussed some obvious barriers -- language, resources -- but quoted a number of Chinese authorities saying that the real problem lay in the way Chinese schools taught people to think for themselves -- or, didn't. Too much emphasis on rote, detail, and following procedures; too little encouragement to reflect about the process of discovery. An analysis very similar to what we
originally heard
from a foreigner. I do not pretend to be able to follow arguments in the Chinese press with any nuance. I offer this (tipped from a contact at Intel, then labored-through by me) as evidence of a parallel, and obviously authorized, Chinese-language discussion, and as a resource for any Chinese reader who might have missed it.