Beijing construction triptych #1: Mandarin Oriental
Three and half months ago, during the climax of the Spring Festival/Chinese New Year fireworks
insanity
bacchanalia, the nearly-completed Mandarin Oriental Beijing hotel, designed by Rem Koolhaas, was
engulfed
in flames. It soon emerged that fireworks on the nearby CCTV tower, also by Koolhaas, had been the source. (Reuters photo of the fire, Feb 9)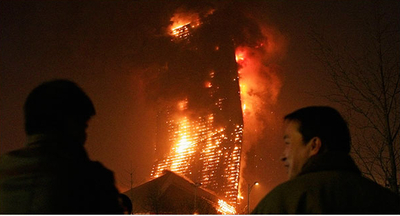 The fire and its aftermath will make a great book topic for someone (not me), because of all the intriguing "this is modern China!" strands involved. The climax of architectural ambition / hubris in Beijing. News media intrigue about exploring the cause of the fire. Backlash against CCTV, for whom the complex (including famous odd-shaped tower) is being built. Many, many other subplots -- as suggested eg here.
What strikes me at the moment is that the building stands untouched, looking months later just as it did when the ashes cooled. Two days ago, looking east from about half a mile away, across the Third Ring Road:

Sometimes structures in big Chinese cities appear -- or disappear -- practically overnight. Other times, they sit for a very long period in limbo. I'm not sure of all the reasons why the hotel has this frozen-in-time aspect, but it's startling whenever I see it.