What is this?? (SWAT team in the subway dept)
8:10 am, April 8, Dongdan 东单 metro station in Beijing: at the exit turnstiles, three black-uniformed troops, with "SWAT" written across their backs in English, holding big, genuine automatic weapons. Considerately, they pointed their rifles at the ground.
??
I'm used to rent-a-cop style Metro security officers; I'm used to PLA soldiers standing guard around the embassies; I'm used to various uniformed but feckless traffic-"control" agents; I'm used to policemen listening patiently as the antagonists in a fender-bender grow hoarse yelling at each other. But actual soldiers with machine guns? What is this? I thought a photo would be ill-advised.
On the other hand, and still on the security theme, Kevin Miller, of the University of Michigan, submits a photo of another of the mystery bomb-disposal containers I mentioned recently. Conveniently, his had a label in English.
It's not wholly legible in that shot, but the label says "Suspect Bomb Container." Even gives a url,
www.jwgk.com
, with lots of interesting info in Chinese and, to a limited degree, in English: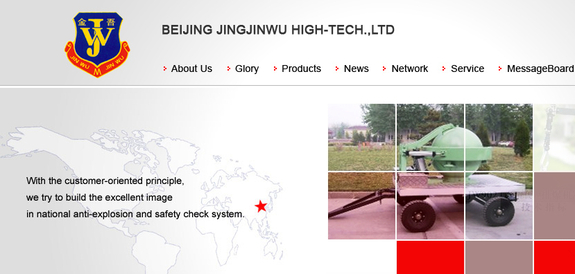 Now I feel better informed. Though I confess I still don't understand what practical purpose these might serve. As another correspondent pointed out, when he felt daring enough to try to crank one open -- as if to stow a suspected bomb -- it took minutes and minutes to do so. Maybe it's part of the economic stimulus plan. We've seen similar "homeland security" efforts in the US.