J.G. Ballard's death this past weekend is sad news for many reasons, among them that the most lasting image he will have left of himself was as a child. I was never that interested in his bleak, "Ballardian" speculative fiction, but Empire of the Sun, based on his life as a boy captive of the Japanese in Shanghai, was a beautiful and heartbreaking book, converted by Steven Spielberg into an appropriately beautiful movie.
I read the book just before my first visit to Shanghai in 1986, and saw the movie the following year after another trip to the city. In those days the foreign "concession" mansions of Shanghai, in which expat families like the Ballards had lived before the Japanese arrived in 1937, were mainly derelict. Some stood vacant; some were occupied by numerous families, one per room; some had been converted to Party or government offices. Now, two decades later, some have been razed to make way for apartments or office blocks, some have been spiffed up and gentrified into high-rent lodging, some have been converted into shops or restaurants.
In the 1980s my wife and I were not able to figure out which house had been Ballard's -- nor the one where Nien Cheng lived during the Cultural Revolution horrors described in Life and Death in Shanghai. But we know now, thanks to a tour guided by Shanghai history expert Patrick Cranley, that Ballard's childhood home at 31A Amherst Avenue has reappeared, on Pan Yu Road, as the fancy "SH 508 Restaurant." This is how it looked, inside and out, last month (note high-rise in the background, on site of former mansion):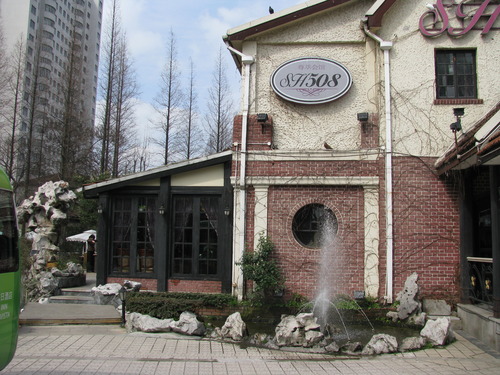 A main dining room. Note big-screen TV on the wall, de rigeur for high-end Chinese dining parties. In rear of room, clothed in unplanned conformance with room's color scheme, is my wife.
For an extensive and fascinating account of one Ballard fan's search for the author's boyhood home, complete with maps, satellite views, and much better pictures of the way it looks today, check
here
. RIP.