Own worst enemy, Tomorrow Square edition
I've mentioned once or twice, or maybe fifty times, my wonderment at the contrast between the sophistication with which Chinese officialdom can address domestic audiences and sensitivities, and the comic-if-it-weren't tragic cluelessness of many official efforts to explain China's views and "feelings" to the outside, non-Chinese-speaking world.
I don't have time for a full presentation-and-gloss at the moment, but see if this recent item, which I found while leafing through back copies of my favorite newspaper, the China Daily, rings any bells. It was about the nomination of Gary Locke, former governor of Washington, as US Commerce Secretary, and it  featured "inside" analysis from an experienced Chinese diplomat:
Story as it looked on the page, showing the local Chinese angle: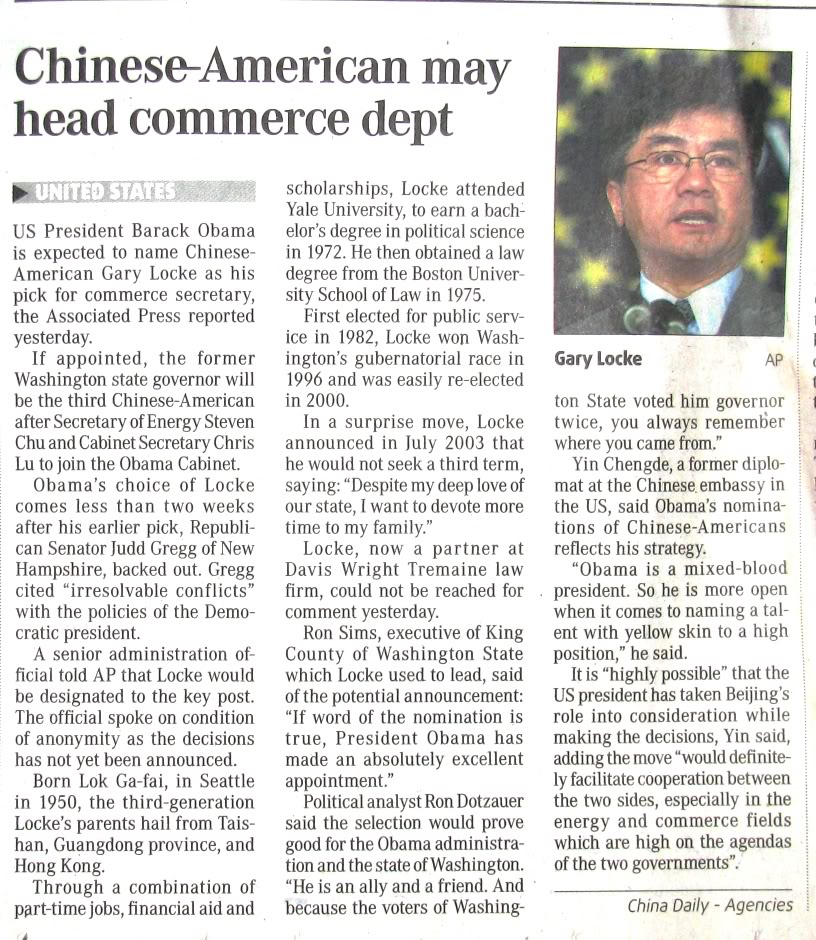 Near the end, the experts step in, displaying their perfect ear for the nuances of the way race is lived and discussed in Obama-era USA. Analytical conclusion of the story, from someone with that indispensable on-the-ground knowledge of America:

Ah, the talents with the yellow skin. In a similar development, the new issue of the local That's Shanghai magazine has a rundown of events for the Shanghai International Literary Festival, including a talk I'm giving at 3pm today. Most of the items list the writer and the name of his or her most recent book. In my case, that proved to be awkward -- since the title, Postcards from Tomorrow Square, includes the now-sensitive word "Square," which officials feel might stir up emotions about unpleasant events that happened twenty years ago this June in another Square. I am not kidding (and I'm also not just guessing about this). A friend has suggested that perhaps the Tomorrow Square building, 明天广场, in central Shanghai -- right on People's Square, as it happens -- will have to have its nameplate removed during the sensitive period ahead. It is sometimes unbelievable but never dull here.