Better news out of the midwest: Mischke back in business
Previous bad news entries reported the dethronement of St. Paul's own Tommy Mischke as a radio talk-show host. My profile of Mischke from eight years ago in the Atlantic is here; it included this photo of the artist at work: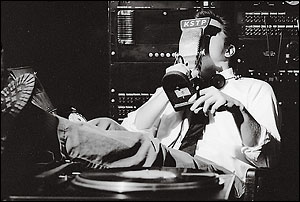 As reported in MinnPost.com and Czerniec.com, Mischke is back in business -- as of today. Details of the first webcast, which will be weekdays from 2pm to 4pm Central time starting March 4, are in the two previous links plus at CityPages.com, which will host the show. Enjoy.