Also on the brighter side: better news on Chinese cheese
No, not that the beagle-enhanced war on cheese has been called off.
Rather, a reminder of one valuable inside-the-country source, Yellow Valley Cheese. When we lived in Shanghai we often bought wheels of Yellow Valley's Gouda-style cheeses, like those depicted on the company's web site, below. Indeed the picture on the left, with all the cheeses lined up, very closely resembles what we saw in our store in Shanghai.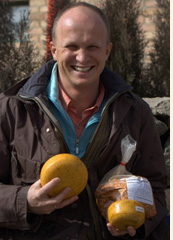 The company's founder, the Dutch agriculturalist Marc de Ruiter -- I assume this is him, in Mr. Cheese pose from the site -- says they're available in many places in
Beijing and elsewhere
, though I haven't noticed them at our local haunt. (Jenny Lou at Jianwai Soho.)  His cheeses aren't cheap, but they are very good. My favorites were the cumin and onion-and-garlic varieties.
De Ruiter places great stress on his company's organic-farming and
fair-trade policies
. I hadn't known about the
online order site
, which I will now try. Go to hell, sniffer beagles. I can work around you.