Several times I've written in the Atlantic about the Irish businessman Liam Casey, who in the past few years has built an outsourcing empire in the southern Chinese manufacturing center of Shenzhen. (Original Atlantic article here. Slideshow including snapshots of Casey here.)
In these articles I gave Casey the jokey honorific "Mr. China," derived from Tim Clissold's hilarious book of the same name. The title is a campy way of indicating the person most in touch with the Chinese trends of this exact moment.
BBC Radio 4 has just posted a 28-minute interview with Casey, called "The Remarkable Mr. China."  They make you work to get at the interview: at least from outside the UK, you have to listen within the next seven days, before it disappears, and it is compatible only with RealPlayer.* Nonetheless, if you've been asking yourself, "Hmmm, I wonder what it would be like to talk with Mr. China down in Shenzhen," you now have a chance to satisfy your curiosity. Thanks to Hillel Schwartz for tip.
UPDATE: Here is a better link, plus a podcast.
 
Mr. China (right) shopping for art in Shenzhen's famed Dafen factory art district last year: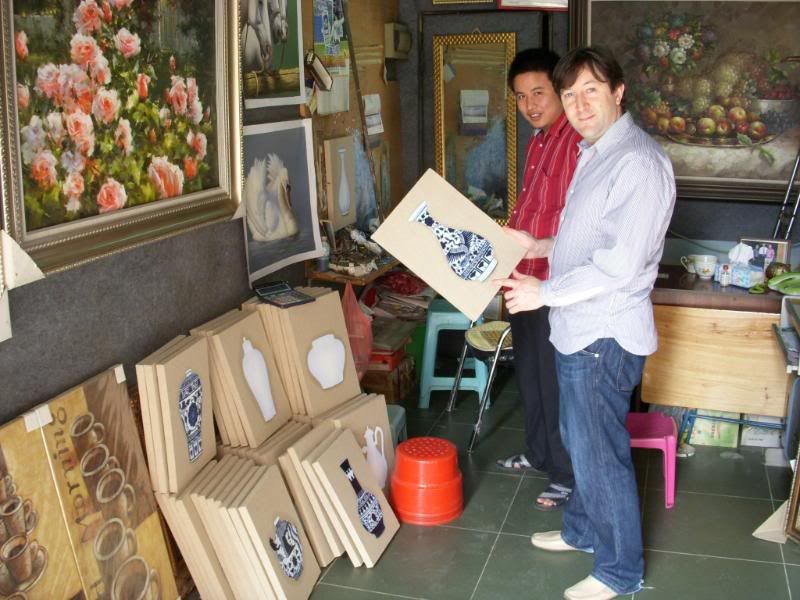 * You can download RealPlayer free from links at the BBC site, but as anyone who has tried it knows, its installation is very aggressive and can easily make RP more of an in-your-face presence in your life than you intend. With careful configuration you can tame it and hear this interview.