Attentive viewers of this site and readers of the latest issue of the magazine will have noticed ads for a new series of DVD's called On the Frontlines: Doing Business in China. Here is the back story.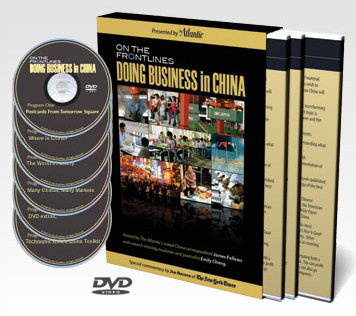 I have a certain forelock-tugging reluctance to sell, sell, sell when it comes to my own personal products and projects. Just ask my publishers! But about team efforts I feel no such diffidence. On the contrary: I think this magazine is great, and I'll say so as often as I can to anyone I can. And I think that this video series, which is the product of many peoples' labor and creativity, is very, very good and worth a serious look.
A video journalist named Bob Schapiro, with his associates Dovar Chen and others, had worked for years getting on-camera interviews with many Chinese officials, industrialists, workers, analysts, etc about the current situation of the country. About two years ago I met them in Shanghai, when they were continuing their reporting and I was one of their B-roll interviewees.
Later, as they put the series together, I saw some of the early cuts and was genuinely impressed with what they'd been able to see and record and present on screen. I happily accepted an offer to be involved in further shaping of the series and to be one of the on-camera hosts (along with the young journalist and performer Emily Chang). Joe Nocera, my long-time friend from the Washington Monthly and Texas Monthly who is now the king of the business journalists, eventually joined the project to provide talk-show type analysis after each segment, in on-camera discussions with me.
What I particularly like about the series is that it shows people, places, and things -- inside factories, inside Chinese companies, workers from remote areas -- that are hard for most Westerners to see, and that finally leave a different impression if you actually see them as opposed to reading about them (even in the best magazines). It also shows you a little bit of the hosts: mainly, you're seeing real Chinese people in action.
 
This is very much a team effort. I'll have more to say about it periodically. The Atlantic is a partner in presenting it, and I have the same enthusiasm for it as for other projects under our label. The main site is here; a few previews and trailers are here.  If you enter a "member code" Atl-Fallows there is a $50 discount. What a deal! Seriously, I learned things about parts of China I hadn't seen by working on the project, and I think others will find it informative too.