Really bad news out of Minnesota: end of The Mischke Broadcast (updated)
I have done approximately one zillion articles for the Atlantic since my first one (about Lloyd Bentsen, then a presidential hopeful) back in 1975. In a very few cases, I've loved everything about the process: learning about the subject, interviewing sources for their views, letting other people know about what I've discovered, and -- when everything works right -- connecting readers with an experience, an idea, a source of information, a phenomenon that they hadn't known about but then find interesting or enjoy.
I am skipping over the "writing the article" stage, which is always unpleasant and simply must be endured.
One of the experiences that was most delightful all the way through was learning about the St. Paul-based radio humorist/musician/raconteur T.D. "Tommy" Mischke, whom I wrote about nine years ago in this article. Mischke is handsome enough, but he avoids being photographed -- except in shots like this, which we used to illustrate the article: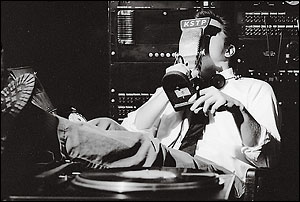 I first learned about him when I was making a lot of long, late-night drives from the Minneapolis-St. Paul airport to Duluth, for reporting that led to this article, and I was scanning the radio for something worth listening to.
I actively looked forward to those drives once I had discovered The Mischke Broadcast on KSTP-AM, which mixed story-telling, political commentary, humor, music, and listener calls in a bizarre and addictive way. For samples, which require Real Player to listen to, there is this bit, in which Mischke interviews an expert on the wreck of the Edmund Fitzgerald (if you can listen, you'll learn why it's funny) and this bit of extended, real-but-unbelievable Fargo-esque surrealism, involving a character name "Bocky."
I have kept in touch with Mischke and occasionally appeared on his show.
The black news today is that KSTP has pulled the plug on the show. Info here and here and, with a lot of background details, here. I really hope that Mischke can find another home or vehicle. He is a talent and a mensch.
 
UPDATE: Two more items on the Mischke firing from MinnPost.com's David Brauer here and here.