Seven years ago today, Tom Wales, a federal prosecutor, was shot and killed in his home in Seattle. He was 49. Although local law-enforcement officials quickly identified a leading suspect, charges have never been brought and the case is not closed. The universal assumption is that his killing was related to cases he had prosecuted and his publicized leadership of gun-safety efforts. This made him apparently the first federal prosecutor killed in the line of duty.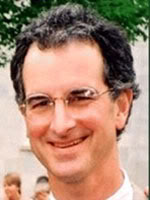 For more about Wales's career and character, and about the mysteries of the case and the suspect, see this authoritative article by Jeffrey Toobin in the New Yorker last year. Last month Dateline NBC did an update on the unanswered questions, with transcript here.  I did an online item about the case and its possible overlap with the Bush Administration "fired U.S. attorneys" allegations early last year on this site.
Memory of Bush-era disputes will naturally fade as the Administration itself does. I hope the memory of who Tom Wales was and what he stood for lasts as long as possible.
We want to hear what you think about this article. Submit a letter to the editor or write to letters@theatlantic.com.
James Fallows
is a staff writer at
The Atlantic
and has written for the magazine since the late 1970s. He has reported extensively from outside the United States and once worked as President Jimmy Carter's chief speechwriter. He and his wife,
Deborah Fallows
, are the authors of the 2018 book
Our Towns: A 100,000-Mile Journey Into the Heart of America
, which was a national best seller and is the basis of a forthcoming HBO documentary.