Your Olympic weather station
Sunday morning, Beijing looked truly horrible -- here, courtesy of Isaac Kardon, is a screenshot of the CCTV Olympic commentators -- but this time the cause actually was "weather," that unmistakable pre-thunderstorm heaviness.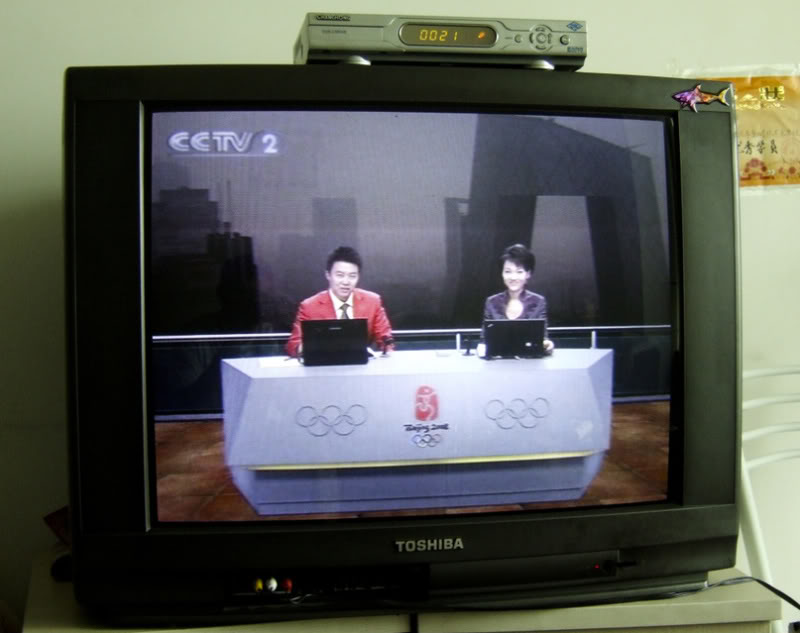 Around 5pm, the lightning bolts and the drenching rains began. This was a short-term inconvenience for Olympic operations, to put it mildly. (My wife and I were 30 miles out of town at the rowing site, where the last stages of the competition was postponed and then cancelled. More later.) But it could be a long-term blessing. Now, on Monday morning, the skies still have a gray overcast, but underneath the air looks washed and clear(er) in a way it usually doesn't. This is the same pattern -- cold front, torrential rain, successive clear days -- that brought blue skies ten days ago. So it's the first cooperative step by the weather gods since the games began.
Update: 1pm city view not so washed-and-clear any more. Still, the passage of a cold front has got to do something to push out the previous pool of stagnant air.