Too much Olympics? Try 'Ace in the Hole'
No more heart to watch the Olympics now that Michael Phelps and Liu Xiang have left the stage? To say nothing of the departed archery teams, lightweight weightlifters, rowers, etc?
Fill the empty hours, and get into the right mood for the upcoming conventions and general election campaign, with a fabulously bleak and cynical old movie from Netflix: Ace in the Hole.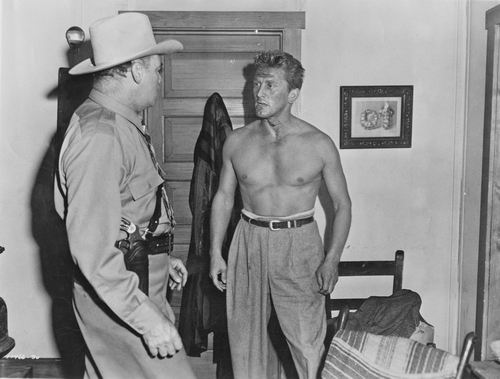 Start-off benefit: Kirk Douglas's shirtless scenes an easy transition from watching toned bodies in the Water Cube.
Douglas plays a newspaper reporter who looks the way many male reporters may fantasize that they might look, and acts the way many non-reporters think the press actually behaves. Directed, with an acid touch, by Billy Wilder. When it came out in 1951, the film flopped at the box office, apparently because its depiction of media ethics and public appetites was considered too dark. Right now -- judge for yourself. Many details in the movie are surprisingly dated, but others could have come from yesterday's cable TV news Also, Kirk Douglas, who was 35 when the film was made and is now nearing 92, deserves to get some more buzz for this performance while he's around.
PS: Although I missed this item when it came out, I see that Jack Shafer had a much more detailed dark hymn-of-praise to the movie
here
, a year ago on Slate. Plus clips from the film! (Heard about the film instead from my friend Bob Schapiro.) Shafer is much harder to please than I am, so that's really a sign that the film is worth checking out.