The Olympics will have to take care of themselves for a while now...
... as actual work impends. Back home at 1:30am from the "afternoon" events.  Tales of logistics nightmares, of a phenomenally clear, crisp, and beautiful Beijing day, of the true meaning of medal counts, and other such topics later on. (Stop reading here if waiting for delayed broadcast of tennis games.)
The event that made the hassle worthwhile: watching Roger Federer, seemingly in the course of the first set, pick up the instincts of the doubles game: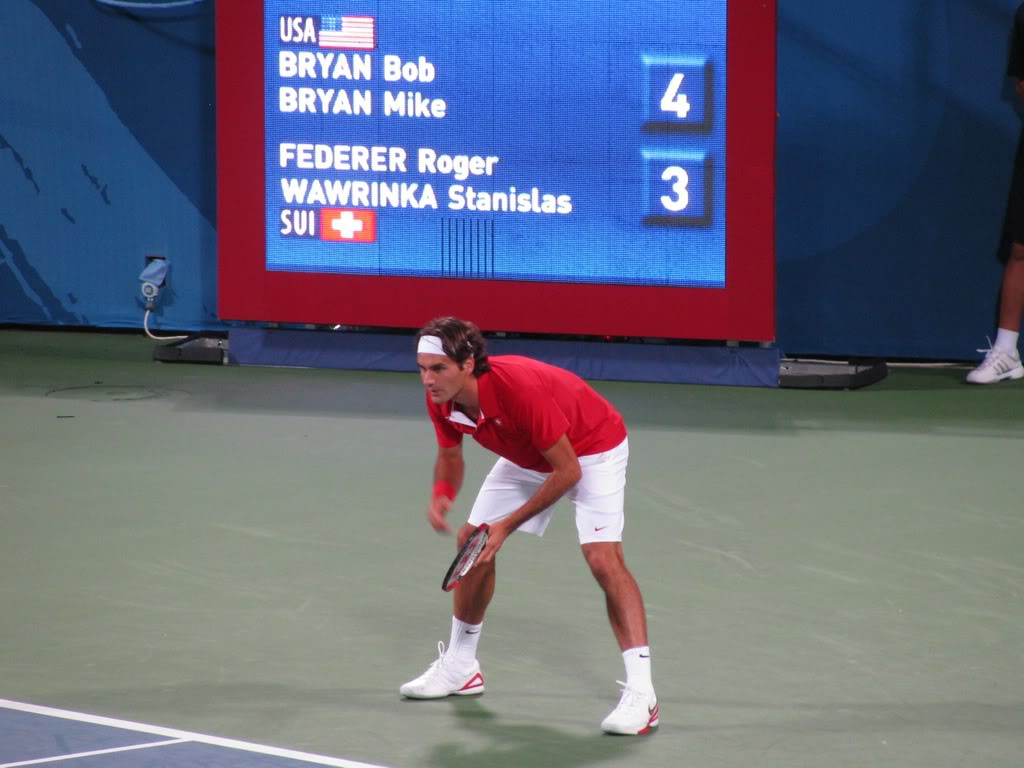 At the start of the match, against the dominant doubles team in the world (Mike and Bob Bryan of the US, top seeded in the Olympics), Federer looked mildly chagrined to be out there -- and ill at ease on the doubles court. Every point his Swiss team lost in the very first game, Federer lost himself -- muffed volley that seemed to take him by surprise, ground stroke into the net, etc.
He and his partner Stanislas Wawrinka -- the second-best male tennis player in Switzerland, sort of like being the second most successful presidential candidate in the Clinton household  -- won the first set in a tie-break, and in the second set Federer suddenly seemed to find his instinct and place.
The Bryans are made for doubles, but Federer took over, and he and Wawrinka upset the Americans in straight sets.
Happy as I am for James Blake, who knocked Federer out of the Olympic singles with his first-ever victory over him (before being knocked out himself a few hours ago), it is undeniably sad to see the elegant Federer (like Sampras before him -- like everyone before him) starting to look mortal on the singles court. It was nice to see his revival in doubles -- and it must be a strange kind of milestone for him, that an "upset" means he won.