Take me out to the ball game (Beijing version)
Monday night fun, watching Team USA take on Team China at the Beijing Wukesong Olympic baseball field. The Olympic basketball stadium, which stands next door, is destined as a lasting addition to Beijing's sporting patrimony. The baseball field, like the velodrome and (sigh!) the beach volleyball area in Chaoyang Park, is destined to vanish as soon as the games are done.
Beforehand, much good natured cross-national cheering in the stands. The US team was the favorite but this was not necessarily a gimme. The Chinese team had, for the first time ever, beaten the Taiwanese. (I mean, the team from "Chinese Taipei.")
Stands were almost full! Perhaps because of the unmolested presence of hordes of scalpers outside. At many venues, scalpers can't do much because you need a ticket to get within a mile of the arena. Oh, yes, also it's illegal. In the jovially packed house, there was a polite cheering alternation as one group of fans would yell the ever-classy "U - S - A! U - S - A!" and then the other would give the equally imaginative Zhongguo! Jia You! Zhongguo! Jia You!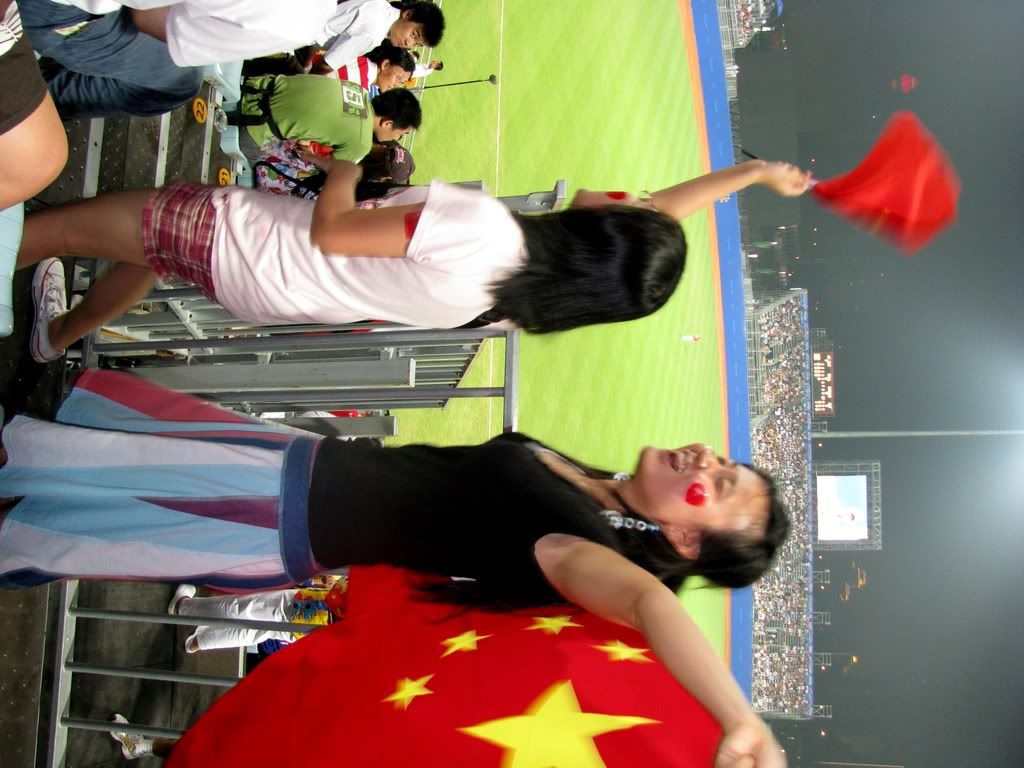 Then everything became a mess, as detailed in this story. Executive summary: China's best player, the catcher Wang Wei, was knocked out of the game when American Matt LaPorta bowled him over and scored. In the next inning the backup Chinese catcher was knocked over in a similar play. When LaPorta next came to bat, the pitcher promptly drilled him right in the head -- the ball bounced so hard off LaPorta's helmet that it came nearly back to the mound.

In the end, LaPorta left the game (but is apparently OK), the US won 9 -1, and the Chinese fans got some satisfaction when the backup catcher, Yang Yang, hit a 9th inning home run. Yang showboated as he rounded the bases, leading to apparent ill feelings on the field. But most in the stands seemed to miss it, and a relatively good mood prevailed in the crowd on departure, considering.
Main athletic point I learned by seeing this in person: most noticeable overall difference between US players and Chinese was how hard and accurately they threw the ball. It was not just the difference in the pitchers: the US starter Jake Arrieta throwing above 90mph early in the game while China's pitchers were in the 70s and low 80s. I think the one that hit LaPorta was clocked at 68. The throws across the infield and from outfielders also looked different. It's always amazing at Major League games to see the ease with which the 3rd baseman pegs it across the infield or the center fielder throws toward home. From the stands, that was the easiest way to tell the teams apart.
Update: Ouch! Team China's final game was tonight against the mighty Cubans. The game was called by the mercy rule at 17-1, after the Cubans had batted only six times. On Friday Cuba meets the US in one semifinal, with South Korea vs Japan in the other,