Catching up on two Olympics points
1) Nationalistic coverage. Background: previous comments about the quite impressive Sino-centrism of what China Central TV chooses to broadcast.
Right now as I type, some of the marquee events of track and field, on the last night of competition, are underway at the Bird's Nest Stadium a few miles from here. And CCTV is showing instead: a ping-pong match between a Chinese player and a Swede, a diving contest involving two Chinese stars, interviews with a foreign coach of a Chinese team, and replays of week-old swimming events in which Chinese athletes did well. These are at the very instant that the men's 5000m is underway. Same thing during men's 800m.  Will this apply to the men's and women's 4x400 relays?? Arggh! One world! One dream!
 
 Update: Indeed, nothing from the final night of track & field was carried on the normal Chinese stations available on our normal Beijing TV set -- except, who knows why, the women's 1500. No problem, no one from China was in any of the races, but still I don't see even the "nationalistic" NBC doing it just this way.  Similarly, we're getting the bronze-medal women's basketball game, China-v-Russia, but not the gold medal women's volleyball game, US-v-Brazil. (And now we're getting a replay of a taekwando match rather than the volleyball championship. This makes me realize that I haven't ever seen on CCTV the live-action cutaways taken for granted in US sports coverage: "Let's go now to the Water Cube, where the final round..." ...) But whenever I feel down, I realize: we've got wall-to-wall ping pong.
2) Translation vs Transliteration. Background: some people have written in to hint -- gently! -- that I might be exaggerating in saying that crucial maps and guides for international visitors to the Olympics were written in Chinese characters plus transliterated "English" versions of those Chinese words. After the jump, proof that I wasn't!
A map of one of the Olympic bus routes to get you from the subway to the venues. (Click for larger and more legible.)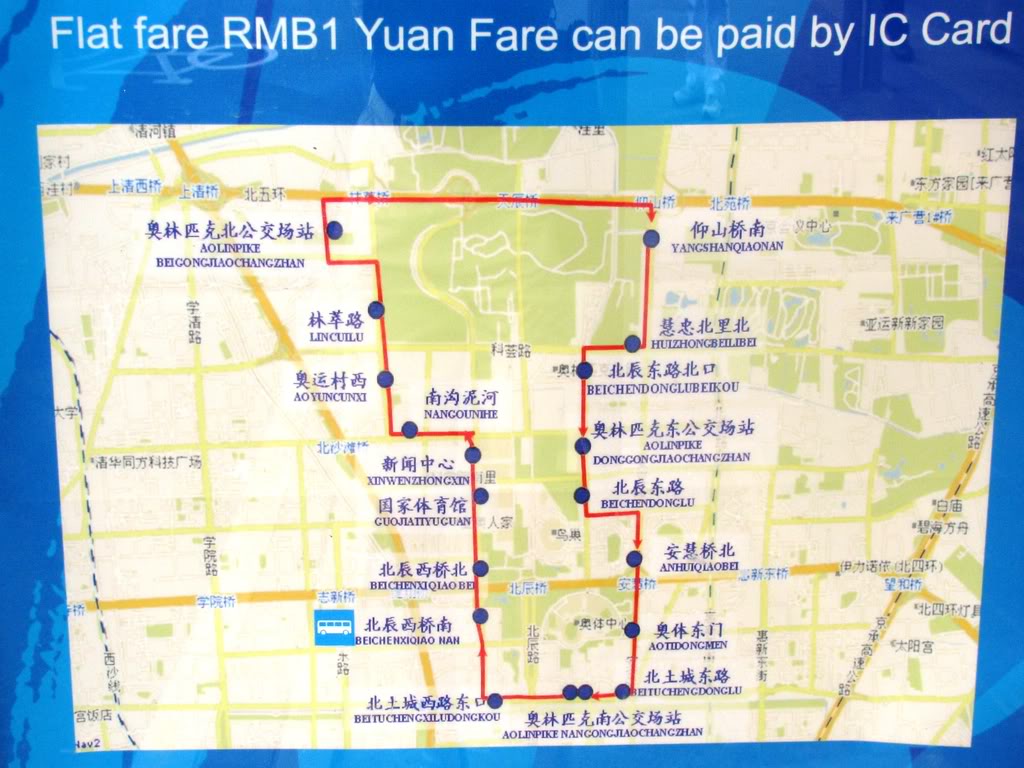 Why Guojiatiyuguan couldn't be "National Stadium" or "Bird's Nest," I can't say. Or Aolinpike Beigongjiaochangzhan couldn't be "Olympic Transport Station - North." Or Aoyuncunxi instead of "Olympic Village West." Why the legend about the 1RMB payment (waived for most people with Olympics tickets) is in English but info on where they're going is not.... again, who knows. But for the record, this is what a map looks like.