Eleven days to go (updated)
View southward from Guomao area, 8am, July 28, 2008. Eight days into large-scale factory and traffic shutdown. Eleven days from start of the Olympics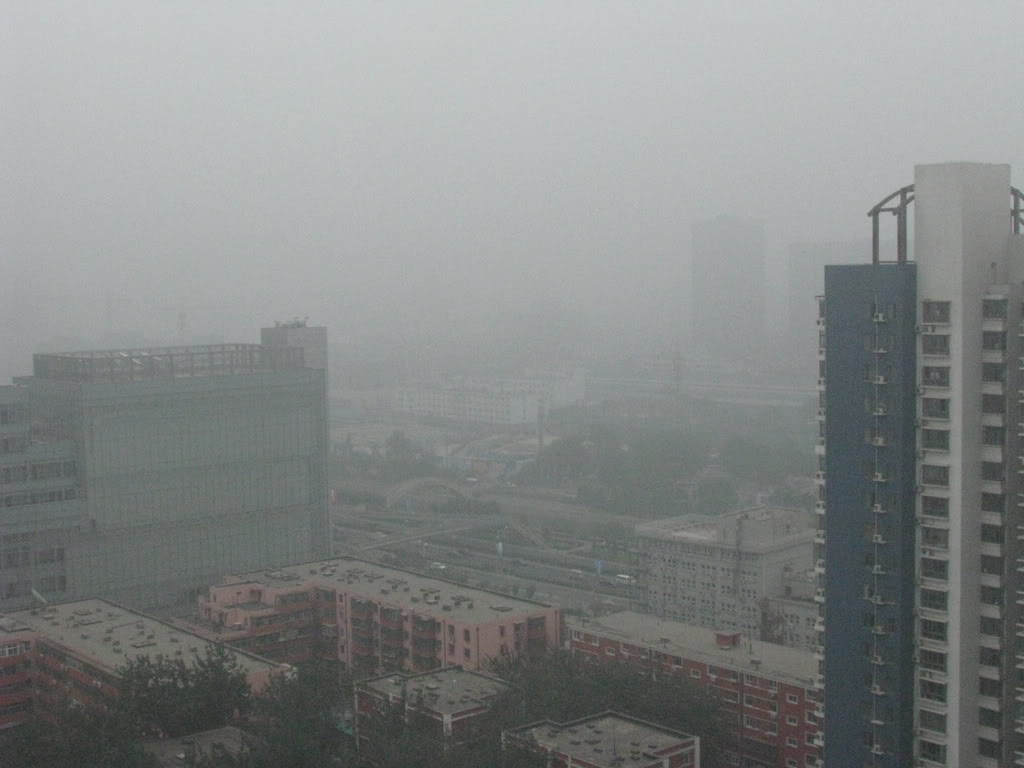 Who knows how much of this is morning mist and so on. Once again this is just for the record as pre-Olympic chronicle. The next time we'll have a chance to check will be one week from now, when there will be four days to go. In the hinterland in the meantime.
Update: Lead story on China Daily website, state-controlled voice to the outside world, reassuringly reports that the government has noticed that things aren't working out so well with its air cleanup plan and is preparing more drastic measures:
..the recent hot and sultry weather, with occasional breeze, and the still high emission level, have raised fresh concerns over the weather during the Games. ["Weather" is the normal euphemism for air pollution.]


The city has not experienced a "blue day", that is, healthy air quality in the past four days. The air pollution index (API) has stayed above 100, the national standard for good air quality. Yesterday's API in the city was between 103 and 124. [A reading of 100 would be unbearably polluted in most European or North American cities. Over the last year a striking number of readings have come in right at 99.]

Among the measures being considered, apparently, is not an even/odd license plate system but an "exact digit only" system.  On a date ending in 9, like July 29, only licenses ending in 9 could drive, and so on. In theory this could cut traffic by 90%.
Considering the past, implacable "everything will be fine" / "pollution? what pollution?" official stance, this is welcome news. So too are airport conditions, as we have just experienced them. On a weekday mid-morning at Beijing Airport's Terminal Three, no big crowds outside the entry doors (unlike a week ago), smooth and efficient security checks, generally an easy flow.

We'll take all these as promising omens for the Olympics -- which, as mentioned earlier, is what everyone should want.