Why isn't Bireli Lagrene a household name?
I know, it's a cliche: cranky Boomer-era guy thinks kids today should like jazz better. Still, as a Father's Day indulgence I'll express my surprise that more people in the US don't know about the French/Gypsy jazz guitar phenom
Bireli Lagrene
.
He's a star in Europe, but I don't see that he has really entered the US consciousness or appeared on any of the main interview or talk shows. (
Fresh Air
bookers???) Maybe he doesn't speak English? He can sing with a completely convincing American accent --
Frank Sinatra's accent
, to be specific -- but everyone sounds American when singing. If language actually is the barrier, he could fake it, with the ever-appealing French accent. Or just play.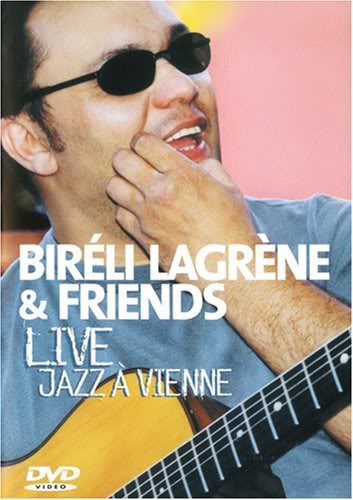 A search on YouTube for Bireli Lagrene
will turn up
a rich assortment of his concerts in Europe, in such different styles as
this
in the cool, slow mode and
this
with warp-speed virtuoso fingering and much
in between
. And here, via the Amazon listing for his wonderful
Blue Eyes
CD of Sinatra songs, is a minute-long sample in Windows Media format of
I've Got You Under My Skin
. For me, all of these are slow to load, but I think that a
China problem
.
This is the kind of thing you like or you don't. My theory is: you should. But that brings us back to the first line of this post.