Beijing must-see: "Tibet of China, Past and Present"
This week the "Cultural Palace of Nationalities" in Beijing -- 民族文化宫 in Chinese, also known as "Cultural Palace of Minorities" -- opened
an exhibit
on the history and future of Tibet. Let me just say: if you want a quick but thorough immersion in the prevailing Chinese view of this issue, you could do far worse than to spend an hour or two here.
The historical part goes under the general heading "The Feudal Serfdom of Old Tibet." The narrative introduction begins, "Before 1959, Tibet was a feudal society of serfdom, darker and more backward than European slavery in the Middle Ages." The more contemporary part is under headings like "New Tibet Changing with Each Passing Day" and "Emancipated Serfs Become Masters of Their Homeland."
As documentation for the historical perspective, the hundreds of pictures in the exhibit include some of tortured serfs from the old days, and a photo of what appear to be two nearly-whole human skins -- one of an adult, one of a child -- from what is described as a human sacrifice of serfs in the olden days. (I'm just telling you what's in the exhibit, and I am not including a photo of this item.) For the modern part, there are pictures of the progress and prosperity of today's Tibet. Here is a modern Tibetan herder, with a fridge full of beer: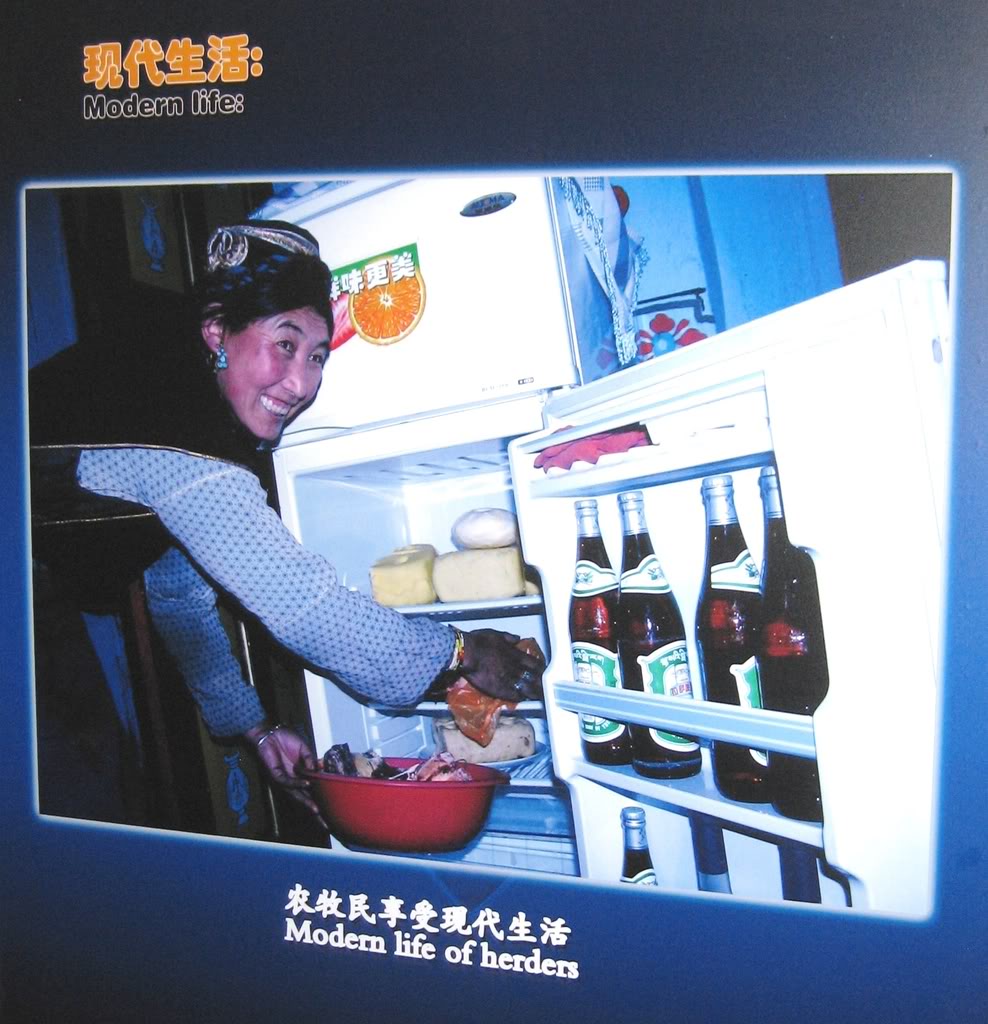 Similarly, here is a "Garden-like Salad Oil Factory" in the new Tibet; below it, a pie chart of where the money is coming from to keep Tibet going (most of it, according to the chart, from the rest of China):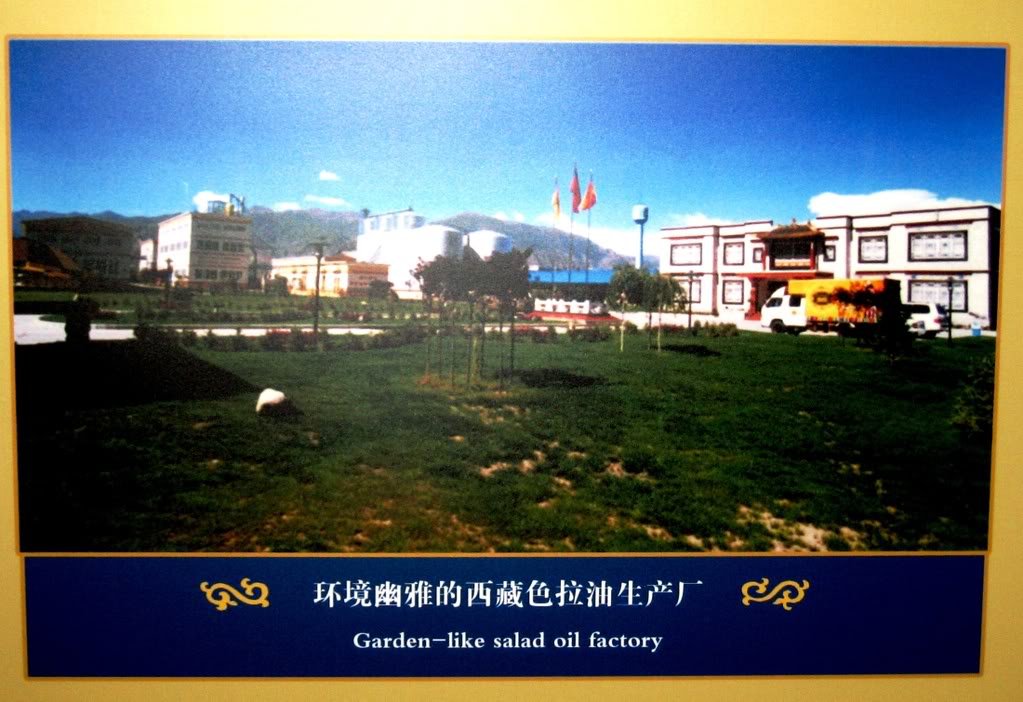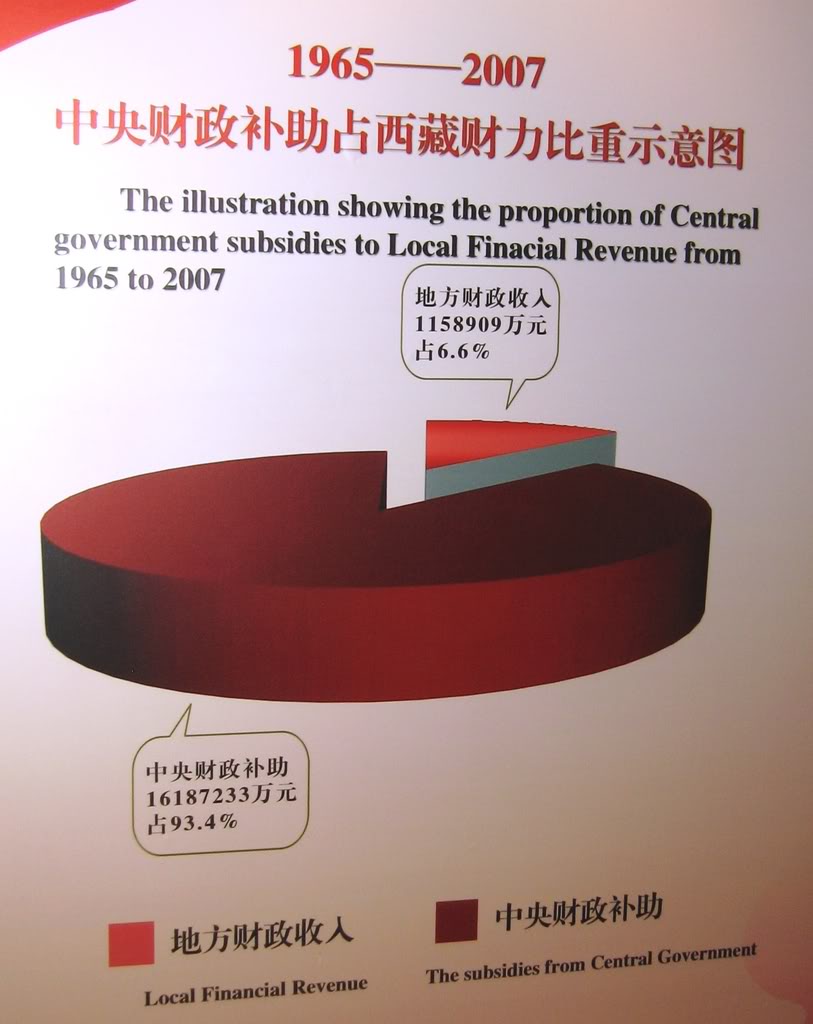 The place was packed with Chinese visitors today, including many families, but my wife and I did not see anyone else who appeared to be non-Chinese. Local TV news crews were interviewing visitors about their impressions. All of the displays are labeled in both Chinese and English.
The exhibit is free -- but at the last minute we had to talk our way in. For the only time in our experience in China (apart from airports and hotels), we faced a gruff demand to present our passports before entry. We didn't have them -- but eventually my Washington DC driver's license, and my wife's magnetic key to our apartment building, somehow sufficed. Policeman and soldiers were everywhere in the building, though one-by-one they were affable and jokey.
The Palace is near the Xidan station on Metro Line 1, and the exhibit runs through July 25. If you are at all curious about what a billion-plus people have heard and are hearing from their government on this question (right now I'm watching a CCTV-9 documentary that essentially parallels this exhibition), bring your passport and find out.