Nerds only: new version of Zoot goes up
It was more than ten years ago that I first
praised in print
the quirky little info-management program called
Zoot
. Looking at that article from August, 1997 is a reminder of how much has changed since then -- it was written before the internet boom, before the internet bust, when the "new" operating systems were Windows95 and WindowsNT, when neither Google nor Web 2.0 nor the iPod had been heard of, and when Apple was at such a low ebb that it wasn't clear that the Macintosh as a PC-alternative would survive.
The one thing that has been constant in my computing life since then is that I have used this same little program to collect and organize information for everything I write. The program has been honed over those years by one Tom Davis -- a 31-year old lone programmer when I wrote about him, a still jaunty looking lone programmer now. (Before moving to China, I went to Boca Raton, Florida, near where he lives, and met him for the first time. Here he is at the Boca Raton airport, pointing at the Z, as in Zoot, on the tail of the Cirrus SR-20 that I owned then and had flown to Florida.)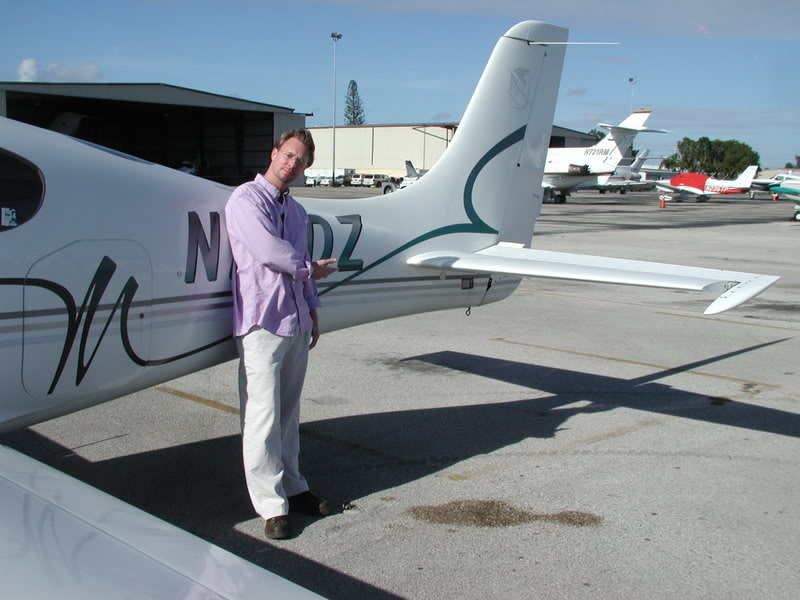 While repeatedly/incessantly stating my reliance on Zoot since then, I've been wary of recommending it to anyone else. It's a tricky program. It suits my needs, habits, and cast of mind
exactly
-- but is apparently not that way for a lot of other people.
So I'm not saying to anybody, You should use Zoot. What I am saying is that a new version has just now been released and is worth at least knowing about. It's more colorful and interesting to look it; its guts have been entirely rewritten to suit modern operating systems; and it has a much improved help and tutorial system, available on the
main site
.
The new version does
not
yet do something I really would like to have, and that Tom Davis says will be the next incarnation: "RTF" features ("rich text format"), so that you can use italics, boldface, underline, and so on. It's plain-text only. It has some other limits too. Nevertheless, given my own tastes and quirks, it's the one program I'd be hard put to do without. FWIW.
Price: $99; $49 upgrade if you've bought a previous version in the last five years; 45-day free trial. It looks like this: